Kate Spade Is An Interesting Turnaround Story, But Tapestry Is Now A Sitting Duck
The evolution of luxury retail during the last decade
After 2014, luxury brands like Michael Kors (CPRI), Coach (TPR), and Ralph Lauren (RL) have gone through some tough times. The landscape changed. Far behind was the post-2007 crisis that revealed to be the perfect place to grow accessible luxury brands through heavy discounting.
Graph 1 – Stock price for Capri, Tapestry, and Ralph Lauren (April 2014 to present)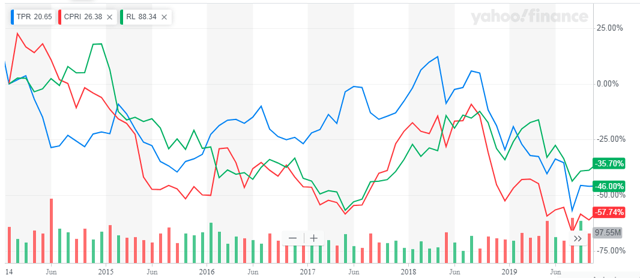 (Source: Yahoo Finance)
Against the current backdrop, being a standalone brand won't cut it for several reasons. The biggest problem relates to the stagnant growth that followed in 2014. One can argue that, as consumer psychology changed after the initial post-crisis years, buyers started to look beyond discounting when selecting luxury brands. Companies that wanted authentic, valuable, brands had to stop discounting. The boom years were over.
Additionally, the post-2014 years saw Amazon (AMZN) emerging as a threat to all types of retailers. Converting to digital commerce became critical for luxury brands. To scale the investments in the distribution infrastructure (eCommerce and brick-and-mortar) in the absence of growth, the alternative is M&A.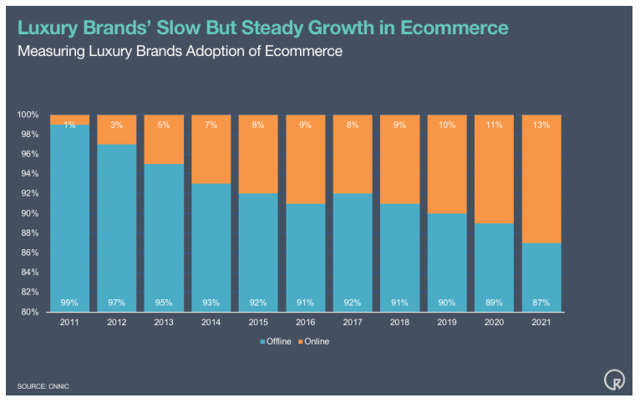 (Source: financescp.net)
That's the reason why, for instance, Michael Kors went after Jimmy Choo and Versace, while Coach acquired Stuart Weitzman and Kate Spade. The answer seemed to be that big standalone brands would start conglomerates by acquiring smaller brands in order to survive. And, that's the strategy that they've been following. Several companies have followed that recipe. Now, the big question is if those big brands are capable of turning into well-run conglomerates.
Transforming luxury brands into conglomerates
As mentioned, Coach was one of the brands whose management team decided to transform into a conglomerate. Now, to run a conglomerate, the necessary skill set is different, from the one necessary to run a luxury accessories brand.
Disclosure: I am/we are long TPR.
I wrote this article myself, and it expresses my own opinions. I am not receiving compensation for it. I have no business relationship with any company ...
more