JPMorgan Trading Revenues Miss Across The Board, Cuts Net Interest Income Outlook; Shares Slide
Just like yesterday's Q2 earnings season-opening report by Citigroup, JPMorgan beat on the top and bottom line, and the stock initially spiked higher. And just like yesterday, JPMorgan reported poor results in two core segments, with revenue in trading and investment banking missing expectations, hitting the stock. Finally, just like Citi, JPM disappointed on Net Interest Income, cutting its NII guidance from $58 billion to $57.5 billion. The stock, just like Citi yesterday, initially jumped but then slumped lower as the second bank to report earnings left a bitter taste in investors' mouths.
First, the highlights. JPMorgan reported Q2 EPS of $2.82, and adjusted EPS of $2.59, which excluded $0.23 in income tax benefits, both of which beat the consensus estimate of $2.50, on "managed" revenue of $29.57BN, which also beat expectations of $28.9 billion, and was 4% higher than a year ago. Net income at the largest U.S. bank 16% rose to $9.65 billion from $8.32 billion. Net interest income was $14.5 billion, up 7.5% y/y, and in line with the estimated $14.56 billion.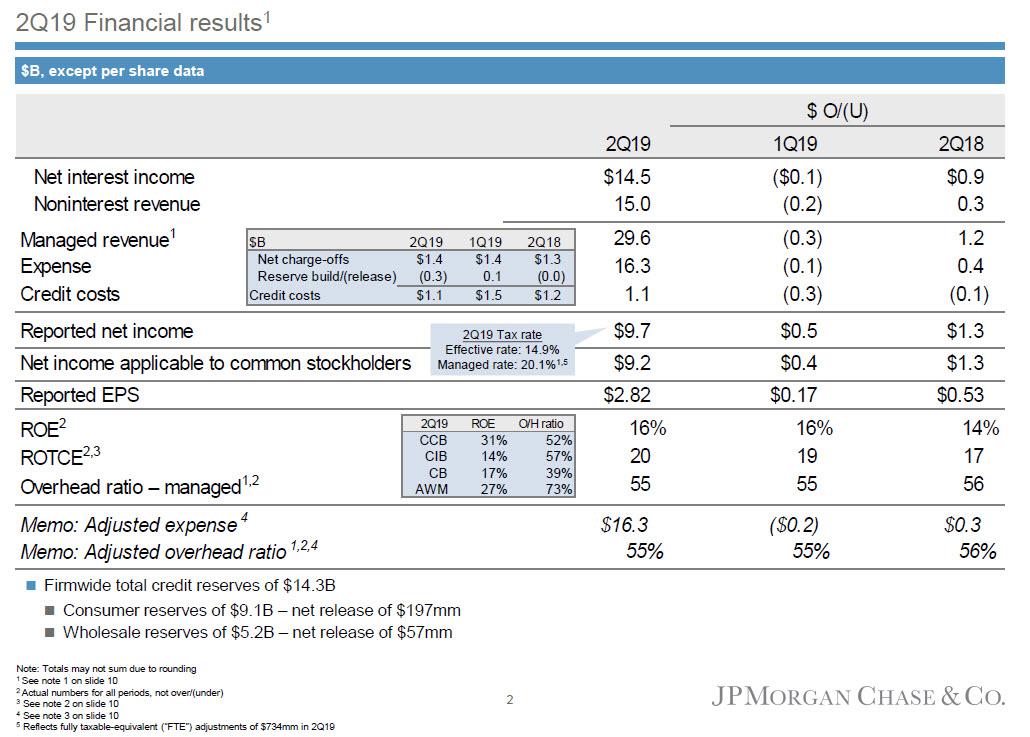 And while JPMorgan paraded with its "Fortress balance sheet", what traders cared the most about was results from JPM's Corporate and Investment Bank, which disappointed as the main divisions missed expectations, to wit:
Total markets revenue was $5.4B was flat YoY including a gain from the IPO of a strategic investment in Tradeweb; However, excluding this one time gain, revenues was down 6% YoY
FICC sales & trading revenue was $3.69 billion, up 6.9% from the prior year, and beating the estimate of $3.33 billion. This number, however, included a gain from the IPO of a strategic investment in Tradeweb; excluding this gain, revenue was down 3% YoY
Investment banking revenue was just $1.78 billion, down a sharp -8.9% y/y, and below the estimate of $1.81 billion
Equities sales & trading revenue also missed, dropping 12% Y/Y to $1.73 billion, and also missing the estimate of $1.82 billion; Equity Markets revenue was down 12% YoY, primarily driven by derivatives, compared to a strong prior year.
Securities Services revenue of $1.0B, down 5% YoY, with deposit margin compression and a business exit partially offset by increased client activity
Treasury Services revenue also dropped, sliding 4% to $1.1BN, with deposit margin compression largely offset by higher balance and fee growth.
Disclosure: Copyright ©2009-2019 ZeroHedge.com/ABC Media, LTD; All Rights Reserved. Zero Hedge is intended for Mature Audiences. Familiarize yourself with our legal and use policies every ...
more