JPMorgan Estimates Up To $316 Billion In Forced Month-End Selling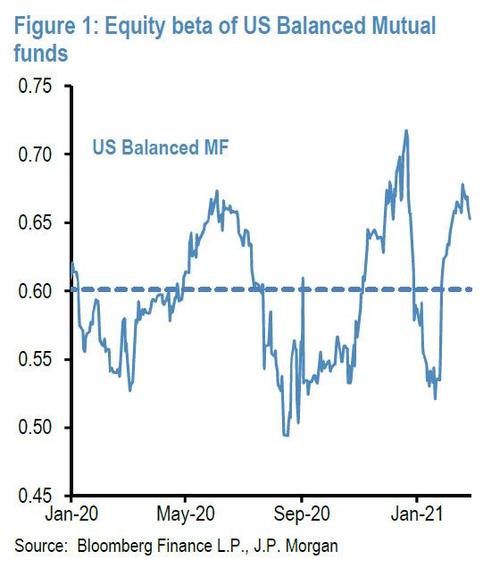 Assuming they were fully rebalanced at the end of January, which is a reasonable hypothesis given the reduction in their betas in January and by taking into account the performance of global equities and bonds since then, JPMorgan estimates around $107bn of equity selling by balanced mutual funds globally into the end of March in order to revert to their 60:40 target allocation.
2. US defined benefit pension plans are a similarly big universe with AUM of around $8 trillion. They tend to rebalance more slowly over 1-2 quarters or so. Assuming they were fully rebalanced at the end of December, and by taking into account the QTD performance of US equities and bonds, JPM expects that the pending equity rebalancing flow by US defined benefit pension plans into the current quarter-end is negative at around -$110 billion: "In other word, US defined benefit plans would need to sell $110bn of equities towards the end of the current quarter and buy a similar amount of bonds for their allocations to revert to end-December levels." Making matters worse, and given the improvement in their funded ratios, Panigirtzoglou notes that it is possible that they would seek to take advantage of this improvement to de-risk, "which could pose some upside risk to this estimate."
3. Norges Bank, a $1.3 trillion AUM entity as at the end of 2020, is calculated to see negative $65 billion in rebalancing (out)flows. This, according to JPM, incorporates also the fact that the Norwegian government looks set to continue to rely on net transfers from its fund to finance part of its budget deficit and assumes that the equity weight would be returned to its target of around 70%. In the second half of 2020, the Norges Bank allowed its equity weight to increase to nearly 73%, and in the event it would simply seek to keep its equity weight unchanged at 73% would imply around $22bn of equity sales, which JPM thinks of as a lower bound estimate.
Disclaimer: Copyright ©2009-2021 ZeroHedge.com/ABC Media, LTD; All Rights Reserved. Zero Hedge is intended for Mature Audiences. Familiarize yourself with our legal and use policies every time ...
more