JPM Reports Huge Trading Miss As FICC Revenue Plunges To Lowest Since Financial Crisis
To anyone who carefully read yesterday's dismal Citi earnings report, which was a major disappointment in virtually every way and especially in the bank's FICC group, with the exception of Citi's core lending business which traders decided to focus on and push Citi's stock price 4% higher, today's disappointing JPMorgan (JPM) results should not come as a surprise.
Actually, JPMorgan Q4 results were even worse than Citi's as they were a disappointment across the board, with both reported revenue of $26.1BN and "managed" revenue of $26.8BN missing consensus expectations of $26.9BN, while EPS of $1.98 was not only well below the $2.20 consensus, but was also the first JPM earnings miss in nearly five years.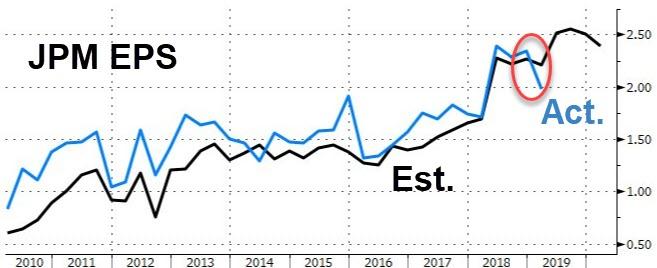 Commenting on the surprising miss, Wolfe Research's Steven Chubak wrote that the results were "very un-JPMorgan-like" and flagged the broad-based core miss, noting that JPMorgan "has a strong track record of delivering strong revenue/earnings beats and these results appear rather unremarkable. The lone bright spot was strong NII/core loan growth, but optimism here will likely be tempered by muted NII guidance'' for the first quarter, of "flat'' versus the prior quarter. "We expect shares to underperform, with the rest of the group likely to trade in sympathy."
Predictably, CEO Jamie Dimon, not used to posting disappointing results, quickly pivoted to politics, and said that "as we head into 2019, we urge our country's leaders to strike a collaborative, constructive tone, which would reinforce already-strong consumer and business sentiment. Businesses, government and communities need to work together to solve problems and help strengthen the economy for the benefit of everyone."
While JPM also posted a modest increase in Net Interest Income, which rose $1.2BN Y/Y to $14.5BN, noninterest income for the largest US bank declined $0.1BN to $12.3BN Y/Y and also declined $1.5BN Q/Q.
Disclosure: Copyright ©2009-2018 ZeroHedge.com/ABC Media, LTD; All Rights Reserved. Zero Hedge is intended for Mature Audiences. Familiarize yourself with our legal and use policies every time ...
more