JPM Reports Blowout Earnings On $5.2BN Reserve Release; Stock Drops On Warning Of "Challenged" Loan Demand
During a Q1 that was marked by steadily climbing interest rates and fresh record highs across equity markets, JP Morgan kicked off bank earnings season by beating on its expectations, but not by a wide enough margin to impress investors, who pushed the stock lower in reaction.
First, a quick look at what the bank reported at the top line:
Adjusted EPS $4.50, smashing expectations of $3.09, and more than 5x higher than the 78c reported a year ago
Adjusted revenue $33.12 billion, +14% y/y, also smashing expectations of $30.42 billion.
And yet, this blowout report apparently was not enough for investors, who quickly pushed JPM stock lower. A big reason - one quarter after US banks raised loan loss reserves by amounts similar to the global financial crisis, they are now releasing reserves en masse, and JPM certainly did so, with $5.2BN of the $14.3BN in net income the result of reserve releases, compared to just $1.1BN in estimated releases. Net of Q1 releases, the bank's total reserves in Q1 were $25.6BN, almost exactly where it was one year ago, and which according to Jamie Dimon "are appropriate and prudent, all things considered."

In other words, ex reserve releases, EPS would have been just below $9BN, and the resulting EPS would be below $3.00.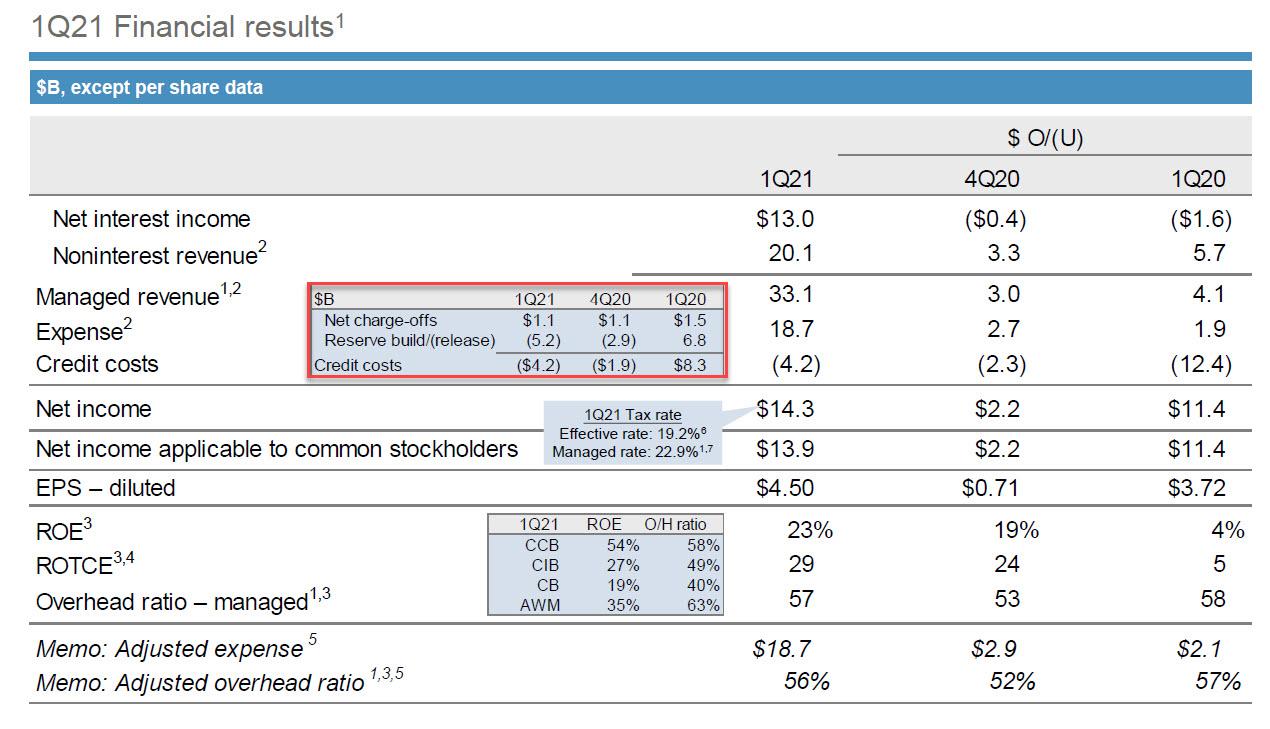 Including the releases, however, meant that JPM reported another record quarterly net income... again.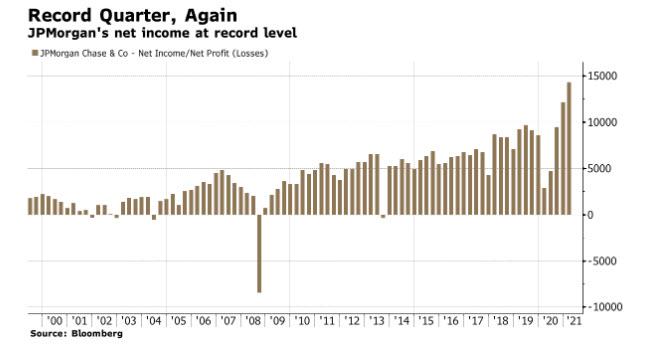 To be sure, it wasn't "just" reserve releases, and in the quarter, the bank did report stellar corporate and investment banking results:
Investment banking revenue $2.85 billion, smashing the $2.46 billion estimate and 222% higher than the $886 million Y/Y. The bank said that IB fees were up 57%, "reflecting higher fees across products", while YoY comparisons benefited from an "$820mm bridge book markdown in 1Q20." Remarkably, equity underwriting was up 219% on the back of the SPAC boom, which beat the nearly 152% estimate from analysts.
FICC sales & trading revenue $5.76 billion, +15% y/y, and blowing out the $5.02 billion estimate; the outperformance here was predominantly driven by Securitized Products and Credit, largely offset by Rates and Currencies & Emerging Markets
Disclaimer: Copyright ©2009-2021 ZeroHedge.com/ABC Media, LTD; All Rights Reserved. Zero Hedge is intended for Mature Audiences. Familiarize yourself with our legal and use policies every time ...
more