Johnson Controls Set To Deliver Further Upside
Johnson Controls (JCI) is a stock that has been on the watch list for some time and what caught my eye was last year's congestion phase built around the extremely strong channel of resistance and support around the volume point of control in the $45.50 region.
Congestion phases are often the most rewarding as this is where trends begin and eventually develop and by using the volume point of control, which is the fulcrum for this stock, along with dynamic support and resistance lines that respond to the price action by increasing in size tells us two things. First, it confirms the congestion zone in a structured and visual way, and second confirms the strength of the support platform once the stock breaks higher.
For Johnson Controls the breakout comes on volatility and high volume which took the price of the stock to $53. Note too how once the break is underway the price action moves through the low volume areas (nodes) on the VPOC histogram (y-axis) with speed which is what we expect to see and is one of the reasons why the VPOC histogram is such a powerful analytical tool as it reveals these regions for us ahead of time. So if the price action is approaching a low volume node we expect the price to move through with momentum, whilst if it is a high volume area, we expect the price to pause and congest.
Finally, it is interesting to note the most recent price action over five candles. Here we have had three days of rising prices and falling volume, a sign of short-term weakness that duly occurred over the last two days. However, yesterday saw the buyers step in once more on high volume on a narrow spread candle, so this stock is not breaking down just yet, and we can expect to see further upside in due course.
(Click on image to enlarge)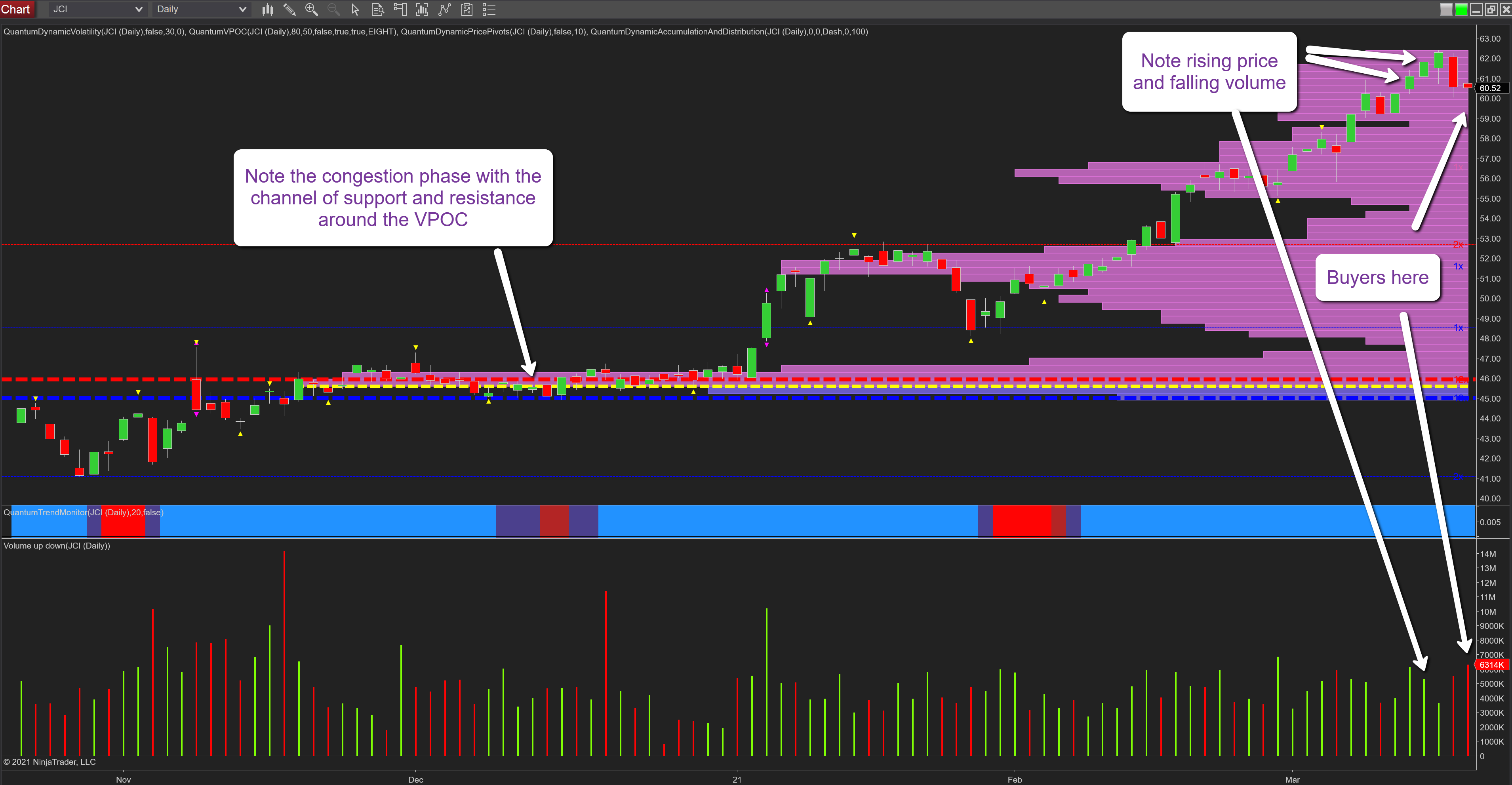 Disclaimer: Futures, stocks, and spot currency trading have large potential rewards, but also large potential risk. You must be aware of the risks and be willing to accept them in order to invest in ...
more