Is Walmart A Buy And Hold Stock Ahead Of Q1 Earnings?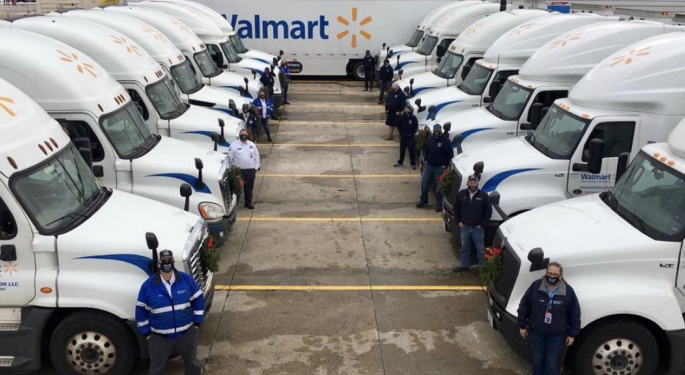 Walmart (WMT - Free Report) shares are down 8% from their late 2020 records heading into its first quarter FY22 financial release that's due out on Tuesday, May 18. The retail giant is coming off one of its strongest performances in years, driven by the coronavirus. But the tough comparisons have seemed to keep some investors away at the moment.
Evolving Titan
Walmart posted one of its best performances in years, with sales up 7% during its FY21, as consumers flocked to WMT, Target (TGT - Free Report) , Costco (COST - Free Report) , and other one-stop shop retailers during the heart of the pandemic. Walmart's U.S. comparable sales surged nearly 9%, with e-commerce revenue up a whopping 80%.
Walmart pushed deeper into e-commerce well before the pandemic as it tried to keep pace with Amazon (AMZN - Free Report) . The company has multiple delivery and pick up options. WMT also in mid-September launched its subscription service to help it further challenge its Seattle competitor.
The service, dubbed Walmart+, costs $98 a year vs. Amazon Prime's $119, and offers unlimited free deliveries. Members also get discounts on fuel and access to new-age in-store checkout offerings. WMT has also expanded its consumer base and diversified its portfolio as smaller brands thrive online.
Walmart's diversification includes teaming up with secondhand e-commerce clothing firm ThredUp, partnering with Shopify (SHOP - Free Report) to bring more small businesses to its own third-party marketplace, and more. Walmart has also beefed up its digital advertising business and it said last quarter that its "rapidly growing advertising platform… should be a multi-billion-dollar business in the very near future."
The company in January announced a partnership with investment firm Ribbit Capital to create a new fintech startup to boost WMT's financial services offerings. And on May 6 Walmart entered an agreement to acquire MeMD. The deal is set to help it provide access to virtual telehealth services across the country and complement its in-person Walmart Health centers.
Disclaimer: Neither Zacks Investment Research, Inc. nor its Information Providers can guarantee the accuracy, completeness, timeliness, or correct sequencing of any of the Information on the Web ...
more