Is This Rock Bottom For Newell?
Our latest featured stock is a consumer products company that's struggling to turn around its business. We pulled this highlight from last week's research of 421 10-K filings.
Analyst Peter Apockotos found several unusual items in the footnotes of Newell Brands' (NWL) 2018 10-K.
When NWL acquired Jarden Corporation for $15 billion in 2016, we warned investors that the deal would destroy value. It only took two years for our prediction to come true. In 2018, NWL admitted that the acquisition was failing and sold off several of its brands. The company also recorded an $8.3 billion write-down (28% of invested capital).
Now that NWL has filed its 10-K (4 days after it was due), our analysis shows that 2018 was NWL's worst year in regards to return on invested capital (ROIC) in at least 20 years.
Figure 1: ROIC for NWL Since 1998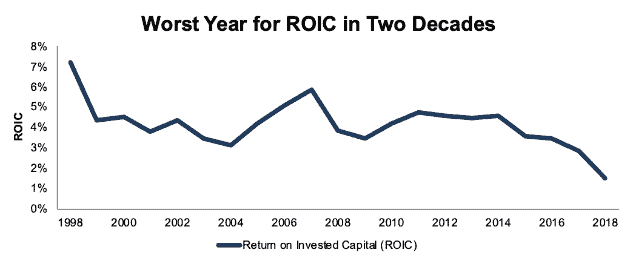 Sources: New Constructs, LLC and company filings.
NWL's major write-downs and divestitures made its 10-K unusually complicated. The company required more earnings adjustments than 92% of the companies we cover and more valuation adjustments than 99% of the companies we cover in 2018.
Getting the Truth on Profits
Removing the impact of the $8.3 billion write-down was our biggest earnings adjustment. However, we did find one other significant non-operating expense hidden in the footnotes. On page 97, NWL disclosed that it increased its inventory reserve by $35 million (1% of revenue), a non-cash expense that we adjust for in our calculation of net operating profit after tax (NOPAT).
We noted in our original Danger Zone report that the company had been artificially boosting its reported earnings by lowering its reserves. In a normal year, raising those reserves would have depressed earnings and alarmed investors. However, with everything else going wrong in 2018, the impact of NWL raising its reserves back to a normal level was overshadowed.
After all our adjustments, we see that NWL's NOPAT fell by just over half in 2018, from ~$1.1 billion to $517 million.
Disclosure: David Trainer, Peter Apockotos, and Sam McBride receive no compensation to write about any specific stock, sector, style, or theme.