E

Is Renault A Value Bonanza?
All this doom and gloom must be looked at from the perspective of very troubled half of the year. And if we take this into account, then we can say that Renault passed difficult stress test while keeping eyes on the long-term growth plan in rapidly changing and extremely demanding environment of the automotive industry. This is especially true because Renault managed to keep its cost leadership in the automotive industry by continuing introduction of Monozukuri, a set of Japanese manufacturing methods; and an increase of popularity of Dacia- an unquestionable value champion.
Regarding the future: Renault decided to increase the speed of introducing its new models. In second half of 2019 we shall expect to see in showrooms new Renault Arkana- which will try to create new market segment of affordable coupe SUV crossovers and electric SUV K-ZE (looking at the silhouette it is electrified Dacia Duster, so we shall expect true value explosion in EV segment), thus keeping an eye on maintaining its European leadership in EV.
Also, the Group remains focused on the mission of conquering Chinese market by acquiring local EV manufacturers, autonomous drive start-ups and charging platform solutions and services for EV. If we couple that with a strategic partnership with Google to provide infotainment and cooperation with Waymo, we can rest assured that the future of Renault shall be secured.
Valuation
Feeling satisfied (or not) about financials and long-term prospects, however, does not indicate if a company is a good material for investing. Therefore, I have decided to proceed with valuation to find out if Renault is a buy or not.
Comparing indicators to its peers, Renault seems to be slightly undervalued (table below).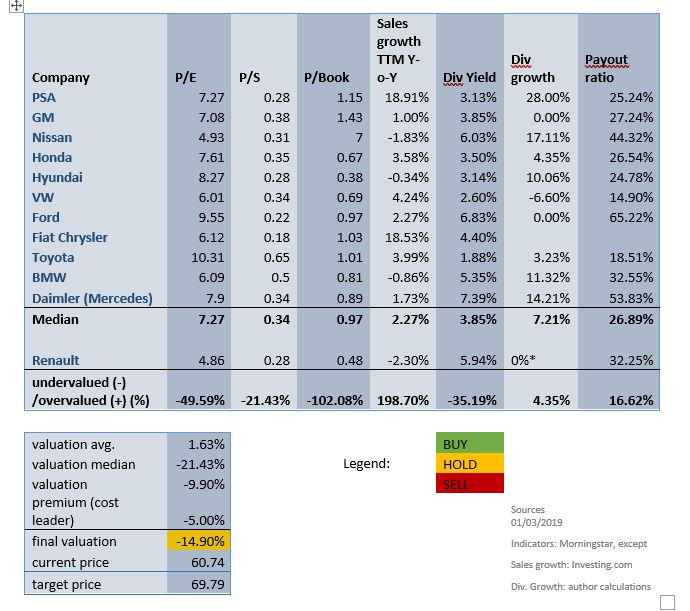 Renault has the lowest P/E ratio across all competitors and below-average ratios for other indicators with an exception for Sales growth, dividend growth, and payout ratio. On the other hand, sales growth is sub-par in comparison to the peer group, having the worst numbers just in front of its alliance partner-Nissan. This normally should not bode well, especially that Renault shall continue experiencing declines in sales on TTM basis up until the end of second quarter of 2019 due to a big positive impact of WLTP introduction on second-quarter sales numbers in the previous year when many customers decided to buy a car before new protocol has been implemented. However, seeing recent impact of sales decline on Renault's Operating Margins, we shall rest assured that the bottom line will not be affected as much as one could expect. Nevertheless, it will negatively impact net income, shares price and most of its financial indicators. I believe that these headwinds are temporary and from third quarter onward Renault shall return to organic growth.
The author is long Renault and has no plans to add/sell its holdings.