Is NextEra Running In Place?
Investing in midstream energy infrastructure today means pipelines, storage, gathering and processing and all the physical networks that sit between oil and gas wells and their customers. It doesn't have to be limited to servicing non-coal fossil fuels. We research and think about other sources of energy including nuclear, renewables and coal.We prefer the more visible cash flows that come with handling and transporting energy over the cyclicality and capital intensity of production and generation. It's why we have avoided upstream oil and gas, coal mining, and power generation companies.
Mining and burning coal releases many pollutants including nitrous oxide, sulfur dioxide, particulate matter and other pollutants. It is in long-term decline in North America. Furthermore, transportation is by rail and ship, which have lower barriers to entry than pipelines.
Public opposition to nuclear has added uncertainty and harmed economics, which makes investing unattractive.
However, renewables offer the opportunity for both long haul transmission lines and large scale storage. These are two areas with the potential for visible, persistent cas hflows, although today there are few opportunities for scale and pure plays. Renewable generation is largely owned by utilities within portfolios that include coal, natural gas, and nuclear assets.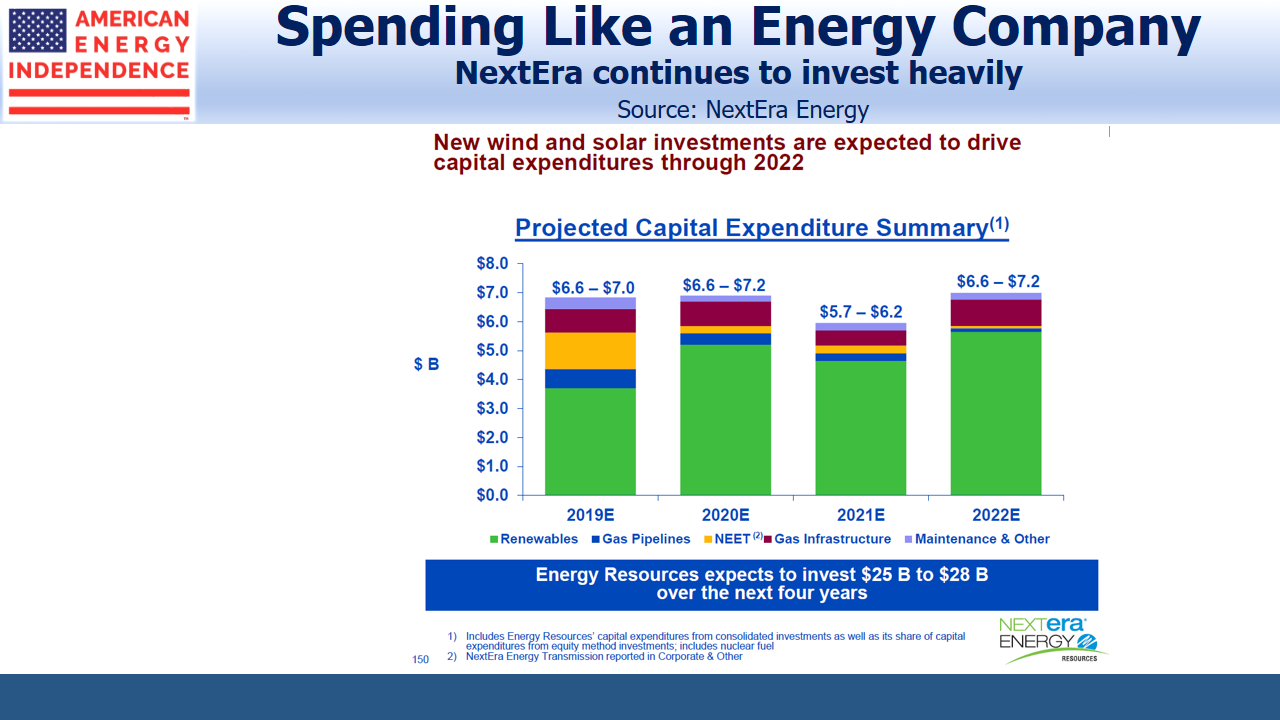 An exception is NextEra Energy (NEE), the world's biggest producer of wind and solar energy. They're the largest component of the SPDR Utilities ETF (XLU). On a list of countries ranked by wind power generation, they would be eighth. Just as the Shale Revolution has created ample opportunities to invest capital for growth, so has the burgeoning renewables business in the U.S., albeit with a wholly different response from investors.
Although energy investors have revolted against endless investments in more production and additional pipelines, NEE investors cheer the company's stepped up commitment to renewables. Over the past year, their stock has returned 24%,8% ahead of the S&P 500 and 16% ahead of XLU. From 2015-18 NEE's capex rose from $3.9 billion to $6 billion, a pace they expect to maintain over the next four years. They're planning the world's biggest battery center by a factor of 4X, in central Florida, to store intermittent renewable energy for later use when it's not sunny or windy.