Is It Just Easy Comps Giving Us Strong Earnings Growth?
Image: Bigstock
One unique aspect of all current economic and earnings data is the distortion caused by comparisons to last year's numbers when most economic and business activities came to a halt as a result of Covid-driven lockdowns. We saw this 'base-year effect' in the recent May inflation reading and other monthly readings related to housing starts, industrial production, and even consumer spending.
With respect to corporate earnings, this 'effect' was in play to some extent in the March-quarter earnings season, but will be very pronounced in the coming Q2 earnings season that will really get underway in mid-July.
Earnings growth was very strong in Q1 2021 and is expected to be even stronger in the Q2 reporting cycle, with comparisons to the comparable Covid-depressed periods of 2020 a major source of the growth.
We should keep in mind, however, that the strong earnings growth we saw in Q1 and the even stronger growth expected in Q2 is also reflective of genuine growth in the absolute sense, not just a result of easy comparisons.
Take a look at the chart below to get a better sense of this reality: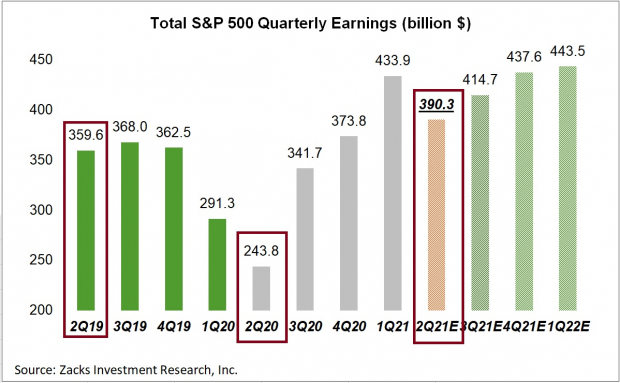 Image Source: Zacks Investment Research
These are quarterly earnings totals, with aggregate earnings estimates for 2021 Q2, and actually reported earnings for 2020 Q2 and 2019 Q2 highlighted.
You can see that 2021 Q2 earnings for the S&P 500 index are expected to be up 60.1% from the Covid-hit 2020 Q2 period. But even relative to the pre-Covid 2019 Q2 period, 2021 Q2 earnings are expected to be up +8.5%.
In fact, 9 of the 16 Zacks sectors are expected to earn more in 2021 Q2 than they did in the pre-Covid 2019 Q2 period. These sectors include Basic Materials (+70.7% higher earnings relative to the 2019 period), Construction (+52.2%), Technology (+30.6%), Retail (+24.5%) and Medical (+20.6%). Even the Finance sector is expected to have +5.4% higher earnings in 2021 Q2 relative to Q2 2019.
Transportation, Consumer Discretionary, Energy, Aerospace and Autos are some of the major sectors that are expected to earn significantly less than what they earned in the comparable 2019 period.
Disclosure: Zacks.com contains statements and statistics that have been obtained from sources believed to be reliable but are not guaranteed as to accuracy or completeness. References to any specific ...
more