E

Intel Processors: The Choice Of Apple And Hackintosh Computer Builders
The GPU and Intel processors of MacBooks and iMacs are almost impossible to upgrade or replace. On the other hand, Apple tolerates hackintoshers because it still gets a cut when hackintosh users buy software or games from the Mac App store.
There are creative professionals who build Intel-powered hackintosh computers and then buy Apple's $300 Final Cut Pro software for editing HD videos.
Hackintosh Help Ushered In Apple's Shift To Intel Processors
It was the late Steve Jobs who actually started the idea in 2001 of a hackintosh - or putting Mac OS X on computers not made by Apple. Sony (SNE) rejected Jobs' offer of pre-installing Mac OS X on Intel-powered Vaio laptops in 2002.
However, Jobs apparently was impressed with the easiness of porting Mac OS X to an Intel x86-powered Vaio laptop that it eventually helped Apple transition from PowerPC to Intel x86 processor for all its Mac computers in 2006.
The robust sales of Intel-powered Mac OS X computers therefore owes a lot to the decision of Jobs to shift to Intel's x86 processors. Psystar and PearC would not have existed without Jobs' idea of a hackintosh for the Vaio.
I have a 2006 Mac Mini and a 2009 13-inch MacBook. But I also still often use an old hackintosh, a OS X Lion 10.7.4 machine with Intel Core 2 Duo CPU and 1GB GeFore GT 9500 GPU. The temperature-raising process of long-duration Photoshop editing is not very friendly on the MacBook.
The hackintosh on the other hand can handle dozens of hours of Photoshop CC 2014 editing without any overheating problems. Another advantage of a hackintosh is that most graphic software now rely on GPU-acceleration and most Macs from Apple today have weak discreet and/or embedded accelerators.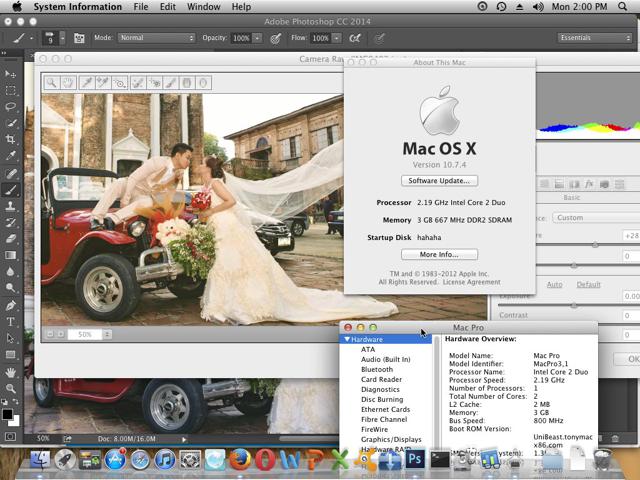 (Source: Alcaraz Research)
I used UniBeast and MultiBeast from TonyMac to create my hackintosh. Mac OS X Lion identifies it as a Mac Pro 3.1. I opine that millions of tightwad graphics artists like me will remain loyal to Intel when it comes to hackintosh image editing workstations.
Disclosure: The author is long AAPL, INTC, MSFT,