E

Intel Processors: The Choice Of Apple And Hackintosh Computer Builders
California-based Quo Computer is still able to sell a customized $269 Intel-powered motherboard (packaged with custom BIOS software) that lets people build top-of-the-line hackintosh machines.
The Intel 7 Series chipset allowed Gigabyte and Quo Computer to create the Mac OS X-friendly Z77MX-QUO-AOS motherboard. Quo says the AOS stands for Any Operating System and Apple has yet to find a way to file a legal suit against it. The best Mac Pro clone hackintosh builds now are those using Gigabyte motherboards with Intel Series 7 chipsets and Core i7 processors.
The opportunity in Intel catering to hackintosh users is easily understood when we consider that there are Americans willing to spend to more than $2,000 to build a hackintosh alternative to the iMac 5K, which has maxed-out configuration price of $4,400.
The different laws in Europe also allow third-party companies in Great Britain to build and sell hackintosh computers on eBay (EBAY) UK. Long-time Germany-based Mac clone vendor PearC still sells its hackintosh products.
Learned investors should never dismiss the total addressable market that is offered by lawfully-approved hackintosh products especially in mature markets like the European Union. The combined purchasing powers of dissatisfied Apple Mac customers in rich countries like Germany, United Kingdom, France, Italy, and the Netherlands is certainly more than just a few million bucks.
Even in the Philippines, entrepreneurs are now selling Intel-powered $1,000 hackintosh computers on online stores and on Facebook (FB).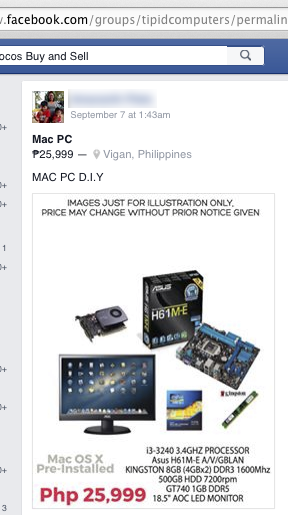 (Source: Alcaraz Research)
The 25,999 pesos ($559.12) that the lady from Vigan is charging for her custom hackintosh build is way more attractive that what Apple Philippines' charges for its (basic no-monitor included/no discreet GPU) Mac Mini 2014 model, 24,990 pesos ($537.40).
My point is that the hackintosh revolution is proliferating across the globe because of the substantial savings and customization/upgrade options it offers.
Disclosure: The author is long AAPL, INTC, MSFT,