Insiders "Bought The Dip" In Record Numbers
Back in September, shortly after the Fed unleashed the "Not QE" meltup in markets (which despite the Fed's most valiant effort to pretend was not QE ended up being steamrolled by the unlimited QE which has since bought $2 trillion in Tsys and MBS in the past 2 months), we wrote that when it comes to the "fair value" of stocks, nobody knows it better than insiders, who tend to aggressively offload shares any time they see the price of their equity holdings as generously high. Which, as we pointed out, was a problem for the bulls as "executives across the US are shedding stock in their own companies at the fastest pace in two decades, amid concerns that the long bull market in equities is reaching its final stages."
To wit: at the end of Q3 2019, corporate insiders - CEOs, CFOs, and board members, but also venture capital and other early state investors - sold a combined $19 billion of stock in their companies YTD. Annualized, this had put them on track to hit $26 billion for the year, which would mark the most active year since 2000, when executives sold $37 billion of stock amid the giddy highs of the dotcom bubble. That 2019 total would also set a post-crisis high, eclipsing the $25 billion of stock sold in 2017.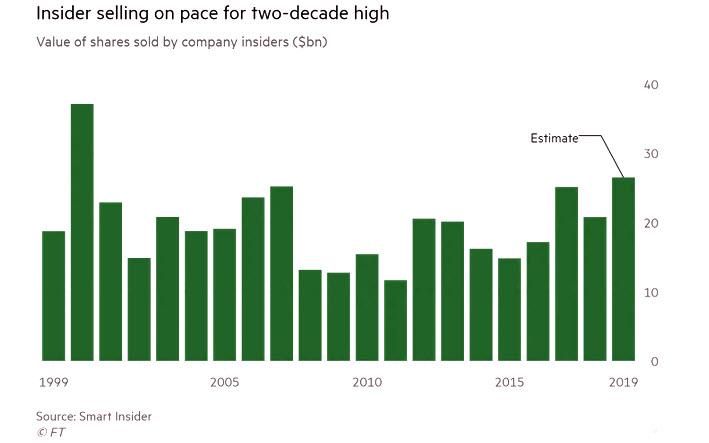 In retrospect, insiders knew perfectly well what they were doing, and thanks to record corporate buybacks around that time, insiders had a perfectly willing buyer: their own companies.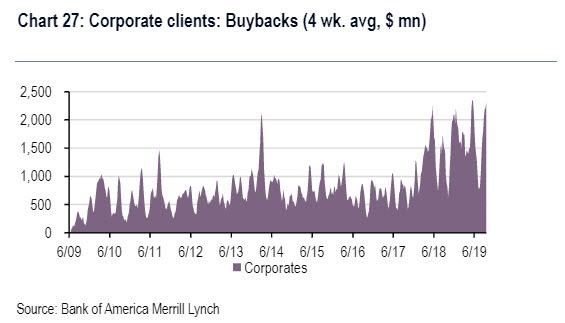 Ironically, it is those same insiders who are now begging the government to get bailed out, because to fund this this buyback flood execs issued so much debt - as we have repeatedly documented - that these companies are now unviable without bailouts. Ironically, while there has been lots of discussion of forgiving corporate buyback stupidity, nobody has mentioned anything about C-suite clawbacks from management that sold record numbers of shares to their own companies. We hope that changes soon.
Disclaimer: Copyright ©2009-2020 ZeroHedge.com/ABC Media, LTD; All Rights Reserved. Zero Hedge is intended for Mature Audiences. Familiarize yourself with our legal and use policies every ...
more