Inequality Has Never Been Bigger: Financial Assets Hit A Record 620% Of GDP
It was about a year ago when we showed a snapshot of the outrages wealth imbalance in the US with the help of just one metric: as of Aug 2019, Wall Street (US private sector financial assets) was 5.5x the size of Main Street (US GDP), and as BofA's Michael Hartnett pointed out, between 1950 & 2000 the norm was 2.5-3.5x. His conclusion, as recent events have sadly confirmed "Wall Street is now "too big to fail"."
Well fast forward one global pandemic and one unprecedented bailout later, which none other than Hartnett himself framed in the best possible way as follows...
"The monetary and the fiscal stimulus in terms of the announcements thus far, it comes to $20 trillion, $8 trillion of monetary stimulus and $12 trillion of fiscal stimulus. And that number is - it's a little over 20% of global GDP. So it's just astonishing and breathtaking and you have to sort of pinch yourself sometimes to sort of realize that it's actually happening."
... when in his latest Flows and Liquidity report, the BofA Chief Investment Officer provided an update on this most critical metric and it's a doozy.
Dubbing it the "Nihilistic Bull", Hartnett describes the current market as the consequence of a decade-long backdrop of Maximum Liquidity & Minimal Growth still Maximum Bullish, and more importantly, it has led to the value of US financial assets (Wall Street) now hitting an all time high 6.2X size of GDP (Main Street). In other words, not only is Wall Street now "even bigger to fail", but in its attempt to "fix" inequality, the Fed has made it greater than ever, and the now daily violence on America's streets is the most immediate consequence... if only those people protesting knew that they should target their anger not at the Capitol but the Marriner Eccles building.
(Click on image to enlarge)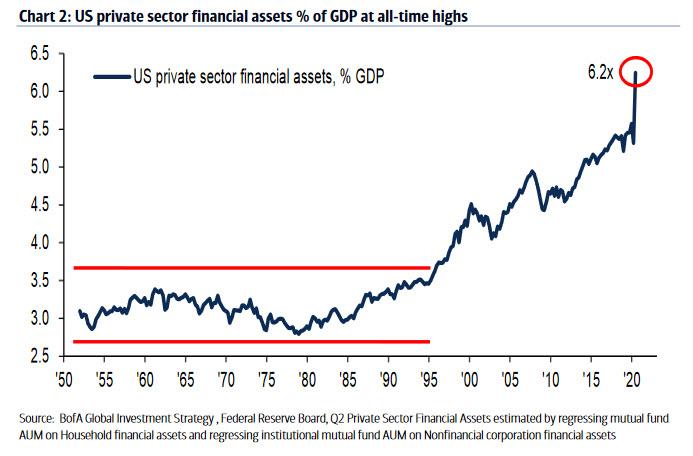 Going back to the chart above, and the market that spawned it, Hartnett writes that "nothing matters but liquidity...GDP loss of $10tn & US claims 53mn numbed by $21tn policy stimulus, $2bn per hour central bank asset purchases." Furthermore, according to the BofA credit strategist, "the structural view on low yields now shared by all...doesn't mean to say it is wrong...but it's inciting a bubble" which is why Hartnett is now confident that the scramble into all asset will not end until the S&P is at 4000, gold $3000, and oil $60, all of which are "probably inconsistent with 0% Treasury yields."
Disclaimer: Copyright ©2009-2020 ZeroHedge.com/ABC Media, LTD; All Rights Reserved. Zero Hedge is intended for Mature Audiences. Familiarize yourself with our legal and use policies every time ...
more