Incoming $1400 "Stimmy" Checks Could Push The S&P Over 4,000
Retail stocks, as we have noted many times on Zero Hedge, are blowing away hedge fund favorites and the S&P 500 index:
(Click on image to enlarge)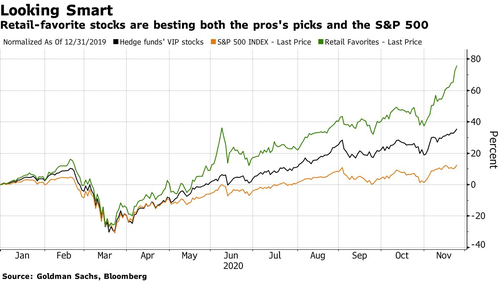 And while people certainly need the stimulus to help offset rising costs and job losses, many will instead divert their checks to the market.
23-year-old Ava Frankel of Boston, who works in the financial services sector, said: "I told my friends, if you're going to spend your stimulus check on shoes, you might as well just put it in Robinhood instead. The $600 check was just something extra I didn't need so I just threw it in the stock market."
Frankel put her entire $600 check in to a SPAC that is reportedly in talks with Lucid Motors and says she would consider doing the same with the next check she gets. "I would love to see a pullback in the tech sector because I would like to add to my positions in the tech names," she also said.
Chris O'Keefe of Logan Capital Management concluded: "If there is a bubble being created within the financial markets, to some degree, those checks do add to it because I think they're going to chase performance. It used to be you added money to the economy and people went out and bought things -- cars and furniture -- now it seems to amplify what's going on in the financial markets."
Or, in other words:
Biden stimmy check will be $1400 not $2000

— zerohedge (@zerohedge) January 14, 2021
Disclaimer: Copyright ©2009-2021 ZeroHedge.com/ABC Media, LTD; All Rights Reserved. Zero Hedge is intended for Mature Audiences. Familiarize yourself with our legal and use policies every ...
more