"Immoral Hazard": Why BofA Is Certain The Day Of Reckoning Is Almost Here
"There are two types of investors", according to Bank of America CIO Michael Hartnett: those who want to get rich, and those that want to stay rich.
That's how Hartnett begins his latest Flow Show note, warning that "when those who want to stay rich start acting like those who want to get rich, it suggests a late-stage speculative blow-off" which one look at Gamestop today confirms is precisely where in the bubble we are today. Yet even though some speculative "froth" assets have gotten hit, with Bitcoin and CRISPR rolling on one hand, on the other China tech & renewables still rising (and actually so is bitcoin... again).

Why is all this happening? The same reason we said back in 2009 when we were blasted tinfoil conspiracy theorists: the "Immoral hazard" unleashed by those in charge... a stimulus which BofA sees expanding the Fed balance sheet to a grotesque 42% of US GDP and sending the US budget deficit to a record 33% of GDP.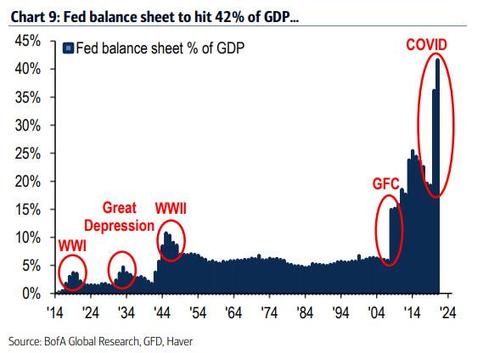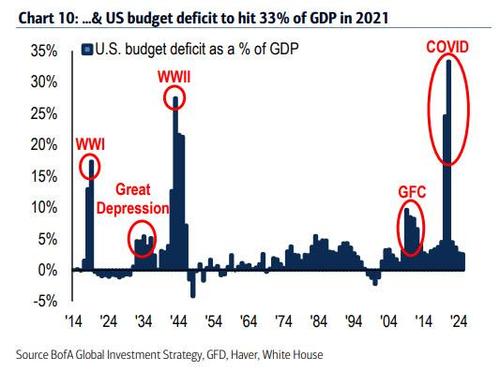 It is this extreme policy, Hartnett writes, which "remains the best explanation for extreme rally off lows in 2020, and the consensus macro boom in 2021."
And with DC policies fueling the Wall Street price bubble, Hartnett believes that Wall Street asset inflation will eventually drag Main Street inflation higher, risking a disorderly rise in bond yields, which results in a taper tantrum, tighter financial conditions and "volatility events" because there is nothing ever new under the sun and "'twas ever thus":
1994: Orange County, Mexico
1999/2000: internet
2007/2008: subprime, housing
2013: IG, EM
2018: HY, leveraged loans.
So if a sharp, disorderly spike in yields is the trigger for the crash, what will catalyze it? The same thing that Hartnett has been warning about for the past 3 months: the widespread use of the Covid vaccine (hence his repeat warning to "Sell the Vaccine").
Disclaimer: Copyright ©2009-2021 ZeroHedge.com/ABC Media, LTD; All Rights Reserved. Zero Hedge is intended for Mature Audiences. Familiarize yourself with our legal and use policies every ...
more