IBM Reports First Revenue Growth Since 2018; But Closer Look Reveals Usual Accounting Gimmicks
Bottom line: while IBM's core business remains a melting ice cube, in Q1 the company managed to extract some blood from the ice, thanks to some solid performance in Cloud, which led to the first increase in revenue since 2018, even if the company's bottom line was the usual accounting gimmickry meant to beat analyst estimates at all cost. What is more troubling is that now that IBM is in cash paydown mode, it means little to no growth opportunities, and after algos read through the boilerplate, we expect that the modest rebound in stock after hours will be quickly reversed.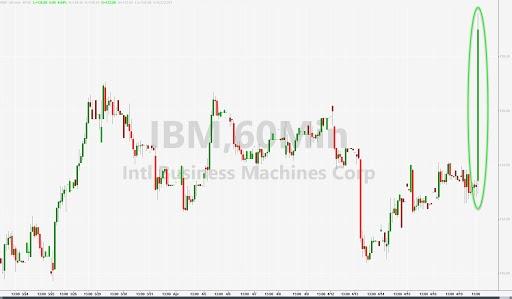 Disclaimer: Copyright ©2009-2021 ZeroHedge.com/ABC Media, LTD; All Rights Reserved. Zero Hedge is intended for Mature Audiences. Familiarize yourself with our legal and use policies every time ...
more