IBM Reports First Revenue Growth Since 2018; But Closer Look Reveals Usual Accounting Gimmicks
Maybe... although like in the past four quarters, IBM did not have enough "visibility" into the future to give any guidance for 2021.
As for IBM meeting its cash flow target, it will have to work extra hard in the rest of the year, because the actual Free Cash Flow in Q1 of $1.522BN was barely higher compared to a year ago.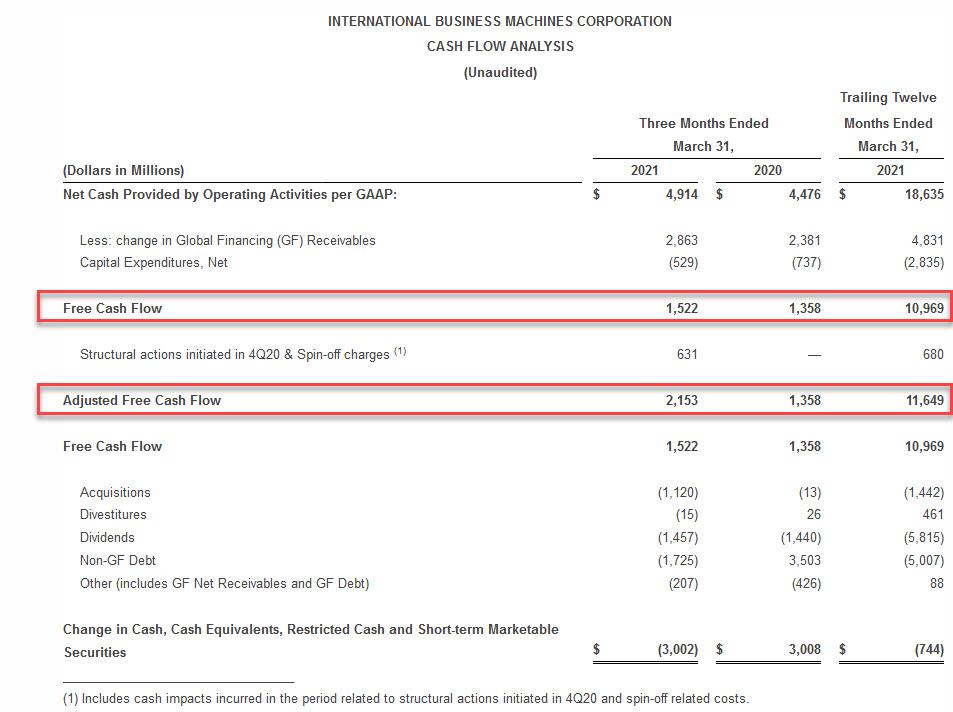 That said, the adjusted FCF was a little big higher, at $2.153BN, which means that the company did not return all of that to shareholders; instead, it handed out just $1.5 billion in dividends.
So where did the remaining cash go? "In the first quarter we continued to improve the fundamentals of our business model," said James Kavanaugh, IBM's chief financial officer. "With strong cash generation and disciplined financial management, we increased investments in our hybrid cloud and AI capabilities, while significantly deleveraging in the quarter and supporting our commitment to a secure and growing dividend."
Speaking of cash flow, IBM ended the second quarter with $11.3 billion of cash on hand which includes marketable securities, down $3 bilion from Q4. Debt, including Global Financing debt of $20.9 billion, totaled $65.4, up from $64.7 billion.
And some more good news: for the second consecutive quarter, IBM paid down its debt, which, including Global Financing debt, totaled $56.4 billion, down $5.1 billion in Q1 and down $9 billion since Q3 2020.
In other news, as Bloomberg notes, April marks a full year at the helm for Krishna, who took over the role of CEO from Ginni Rometty with plans to focus on artificial intelligence and the cloud to revive growth after years of stagnation. Krishna has reorganized the 109-year old tech giant around a hybrid-cloud strategy, which allows customers to store data in private servers and on multiple public clouds, including those of rivals Amazon and Microsoft.
Last October, Krishna spun off IBM's managed infrastructure services unit into a separate publicly traded company, which will be called Kyndryl and be based in New York. The division, currently part of IBM's Global Technology Services division, handles day-to-day infrastructure service operations like managing client data centers and traditional information-technology support for installing, repairing and operating equipment. The unit has seen business shrink as customers embraced the shift to the cloud, and many clients delayed infrastructure upgrades during the pandemic. It was one of only two of IBM's units to see revenue decline in the first quarter, with sales down 1.5%. The spinoff is scheduled to be completed by the end of this year.
Disclaimer: Copyright ©2009-2021 ZeroHedge.com/ABC Media, LTD; All Rights Reserved. Zero Hedge is intended for Mature Audiences. Familiarize yourself with our legal and use policies every time ...
more