IBM Reports Best Revenue Growth In 3 Years, But Usual Accounting Gimmicks Remain
There was some hope in late 2019 that IBM was finally turning things around: after all, after 5 consecutive quarters of declining revenues, the company had just managed to grow its top-line for the first time since Q2 2018 - when revenue grew by a paltry 0.1% - and only for the 4th time in the past 8 years. Alas, those hopes were dashed for much of the pandemic plagued 2020 when the company reported three consecutive quarters of declining revenue.
However, in an extended glimmer of hope for Big Blue which many had started describing as a melting ice cube in recent years, moments ago IBM reported that in Q2 it generated revenue of $18.75 billion, smashing expectations of $18.286BN, a continuation of strong performance reported last quarter when some said that IBM had finally hit rock bottom and was due to rebound.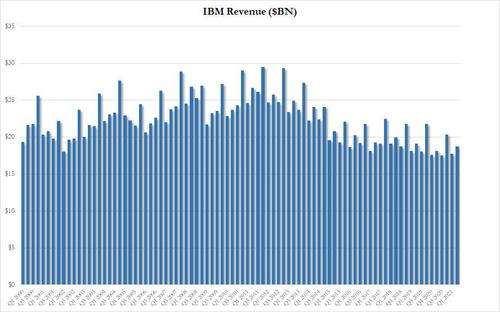 More importantly, after a modest 0.9% Y/Y improvement in the Q1 top line, Q2 revenues were a solid 3.5% increase compared to Q2 of last year, the biggest revenue increase in three years since Q2 2018. While last year's earnings were surely depressed by covid, and the base effect provides an artificial kicker to this quarter's growth, we are confident that the company and shareholders will be delighted with the outcome.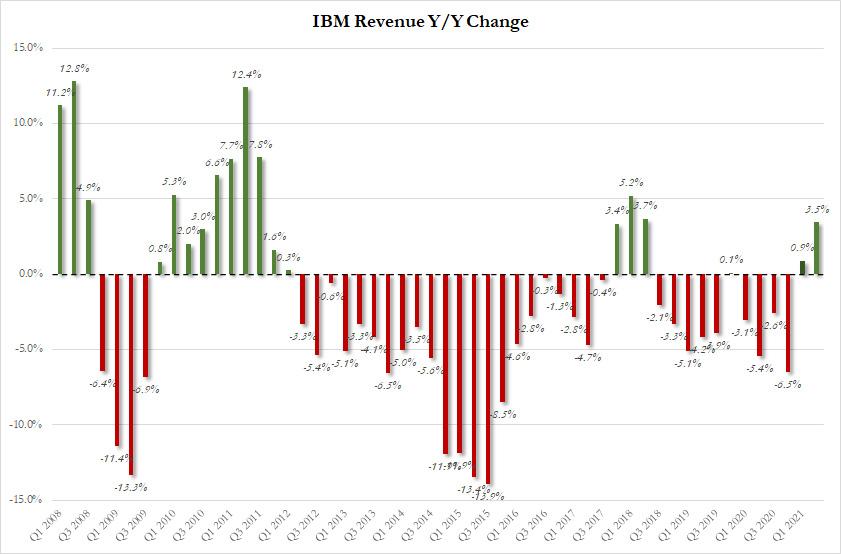 The top-line strength came on the back of solid performance by virtually all groups (only Global Financing revenue missed expectations for the second quarter in a row), with total Cloud revenue of $7.0BN up 13% (down from the 21% increase in Q1).
IBM also reported Q1 revenue growth in three of its five business segments, including Cloud and Cognitive Software, the company's biggest unit, which saw 6% growth in sales from a year earlier. The Global Business Services unit, which includes hardware and operating systems software, also posted a year-over-year sales increase of 12%.
Cloud and cognitive software revenue $6.10 billion, beating estimates of $6.03 billion
Global business services revenue $4.34 billion, beating estimates of $4.06 billion
Global technology services revenue $6.34 billion, beating estimates of $6.20 billion
Systems revenue $1.72 billion, beating estimates of $1.68 billion
Global Financing revenue $242 million, missing the estimate of $251.8 million
Disclaimer: Copyright ©2009-2021 ZeroHedge.com/ABC Media, LTD; All Rights Reserved. Zero Hedge is intended for Mature Audiences. Familiarize yourself with our legal and use policies every ...
more