IBM Plunges After Reporting Lowest Q4 Revenue This Century, Slowdown In Cloud And Another Grotesque EPS Fudge
There was some hope last year that IBM was finally turning things around: after all, after 5 consecutive quarters of declining revenues, the company had just managed to grow its top-line for the first time since Q2 2018 - when revenue grew by a paltry 0.1% - and only for the 4th time in the past 8 years. Alas it was not meant to be, and moments ago IBM revealed that revenue declined again in Q4, dropping for the third consecutive quarter, sliding a whopping 6.5%, the biggest decline since 2015 - and while Red Hat revenue rose by 19%, boosting cloud revenue by 10% (including $738MM in internal revenue), total external cloud and cognitive revenues of $6.8 billion once again missed expectations of $7.3BN, and more ominously, were a decline of 4.5% from last year.
(Click on image to enlarge)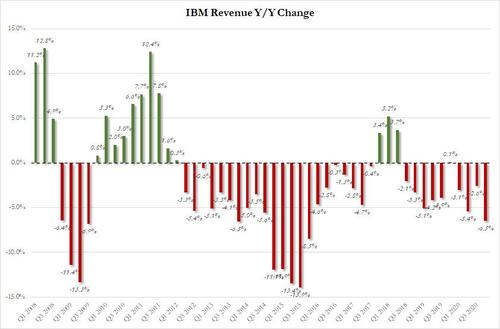 Then again "boosted" may be using the term loosely: at $20.4BN in total revenue, and once again missing consensus expectations of a $20.6BN print, IBM's Q4 2020 was its worst fourth quarter for sales this century.
(Click on image to enlarge)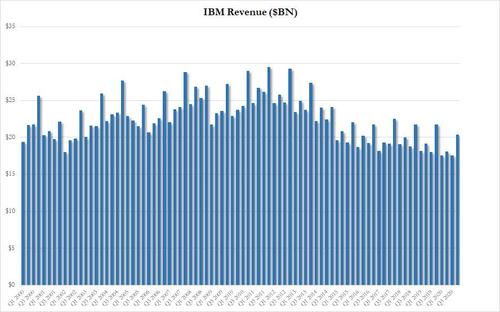 Some more Q4 revenue details, which missed across all key categories, including cloud and cognitive:
Cloud and cognitive software revenue $6.84 billion, estimate $7.26 billion
Global business services revenue $4.17 billion, estimate $4.17 billion
Global technology services revenue $6.57 billion, estimate $6.79 billion
Systems revenue $2.50 billion, estimate $2.48 billion
Adjusted gross margin 52.5%, estimate 51.2%
Total cloud revenue of $7.5 billion, up 10%
Red Hat revenue up 19%, normalized for historical comparability
And visually:
(Click on image to enlarge)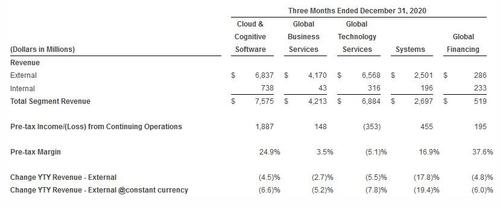 And while IBM's Q4 adjusted, non-GAAP EPS of $2.07 beat expectations of $1.79, if down a whopping 56% Y/Y, as usual, this was the product of lots of "artificial intelligence" and aggressive accounting magic because the unadjusted EPS was $1.41, or 32% below the adjusted number. Oh, and the only reason why EPS was this high: IBM reverted to its grotesque "accounting trick" of slashing its effective tax rate, which in Q4 tumbled to just 1.9% down from 8.1% a year ago.
Disclaimer: Copyright ©2009-2021 ZeroHedge.com/ABC Media, LTD; All Rights Reserved. Zero Hedge is intended for Mature Audiences. Familiarize yourself with our legal and use policies every ...
more