I Can't Trust This Rally
In many ways right now the market does look attractive. The S&P 500's P/E ratio, even after some of the rallies this week, is still well-below much of its recent history and touching its historical lows in all except for times when there was a recession, depression, and expectations for a long-one at that.
(Click on image to enlarge)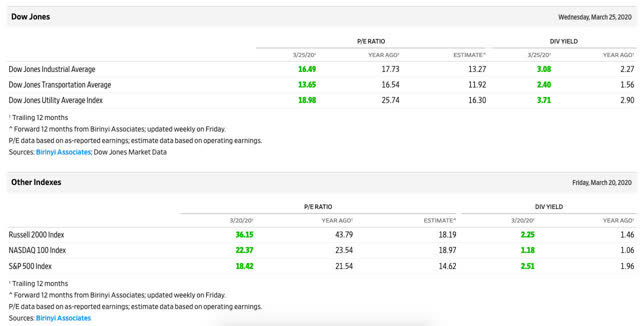 (Source: The Wall Street Journal)
Even with this week's rallies so far markets are still well below their historical highs just barely over a month ago. As the grossly inaccurate and big-range guesses on recent financial and economic data have shown it is hard to predict whether the decline is too much, too little, or just right in expectation of the downturn companies are facing right now.
Unlike 2008 This Is Not Just A Financial Crisis
Yet I believe a reason why the uncertainty is more than just a coin-flip but leans towards hedging towards still some more downside to come is that the coronavirus fight in the United States and dozens of other countries is now seemingly only intensifying. Dr. Schuchat, CDC Principal Deputy Director, in an interview with The Hill on Thursday, said that the hospital overcrowding and draconian total lockdowns in the Greater New York area right now may in a few weeks be replicated in increasingly numerous across the country.
We have only seen the beginning of the coronavirus fight. In 2008 the implosion, even as just a financial crisis, still took months to wreak its havoc, for the dominoes to fall across industries, and for the market to bottom let alone find a sturdy growth footing again. Here we are facing a public health crisis that hasn't even been solved yet and barely truly begun - how long it lasts and the companies it tears apart on the way still remains to be seen.
This week was one of new records in an already-record setting month and, unlike the past month, positive achievements. The Dow posted its biggest one-day gain since 1933, posted its first back-to-back day of gains since February, and its strongest 3-day gain since 1931 in the midst of the Great Depression. Yet before you let those records make you think that all is well for the market from now on, let alone for the economy, let me leave you with this chart of the Dow from the 1930s and the difficult, futile struggle it still often had:
Disclaimer: These are only my opinions and do not constitute investment advice.