How To Profit When Investors "Sell In May And Go Away"
RSI couldn't be easier to read, really; it runs from 0 to 100. If the RSI is above 70, you're looking at an overbought asset that could be about ready to reverse its uptrend and go into correction. If the RSI is at 30 or below, you're looking at an oversold or undervalued asset – could be a great deal.
No need for a calculator, either: You can use a charting program or service, like Stockcharts, which is mostly free, to measure and graph the RSI for you.
Take a look at this chart of SPY at midday on April 15…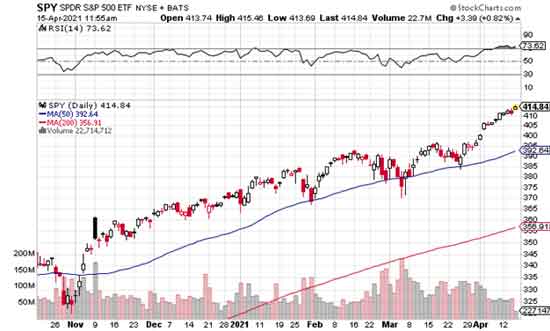 You can see the chart looks strong – and for good reason – with SPY well above its 50- and 200-day simple moving averages (MA50, MA200).
But take a look at the graph above that beautiful chart. Uh-oh! The RSI reading is above 73 right now. That's the highest it's been since August.
If it reaches 80, look out below.
These overbought conditions, combined with a softening historical seasonal trend – the tendency of buyers to leave the market at this time of year – is telling me we could see a correction as April comes to an end and May begins. Earnings season is coming up, which could end up supporting the markets, or at least certain big, well-positioned stocks.
But if we see a down Friday followed by a down Monday, that's a sign that overbought conditions are coming to a tipping point. Notice I didn't say "it's the end of the world"; that's not what's going to happen. But we could certainly see the bull market take a minute to catch its breath.
Now let's talk about what to do about all of this; one thing we shouldn't do is rush for the exits.
Here's How to Profit in May
There are a couple of different ways to go about cashing in if they "sell in May and go away."
Above all, you've got to be more selective in your long positions; when the bull market is going all-out, it's easy enough to make money nearly everywhere you look – just like the new retail investing crowd is doing right now. "A rising tide lifts all boats" is another old cliché.
Disclaimer: Any performance results described herein are not based on actual trading of securities but are instead based on a hypothetical trading account which entered and exited the suggested ...
more