How To Play Netflix Next Week
Image Source: Unsplash
If you've been following me for a while, you'd know Netflix Inc. (NFLX) is one of seven companies I trade every day before breakfast; it's that big and liquid. And after a dynamite Q4 earnings report, more investors than ever are piling in. The stock is just – only just – off all-time highs.
The thing is, it also only just beat revenue expectations – $6.64 billion against estimates of $6.63 billion. That's good enough for Wall Street. But where Netflix really stood out was in new subscribers; it added 8.51 million new customers versus an expected 6.03 million.
That officially puts Netflix north of 200 million subscribers for the first time ever, and it's proof that the October price hike that lots of analysts thought would turn customers off really didn't. We've got the triple-whammy of a cold winter, a pandemic, and spreading lockdowns; viewers are clearly desperate for more content.
Now, like I said, I trade this stock all the time – but here's where I think buy-and-hold investors should come in.
The Stock Has Hit the Top
Netflix absolutely exploded on Wednesday, Jan. 20, going up nearly 17% by that afternoon. You can see its five-day chart looks like the start of a very steep cliff, and investors who found themselves at the bottom of it are probably feeling pretty great right now.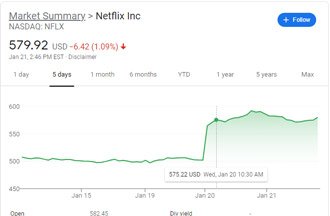 So, if you don't already own Netflix, you're probably asking yourself, "If I get in now, am I topping the stock?" In a word - yes. The thing is, the company just saw a massive spike in subscribers – a 41% beat by the Q4 numbers.
Winters don't last forever, and the end of the coronavirus pandemic is at least in sight now. And some of those subscribers will almost certainly drop out. But a lot of them will be with Netflix for the long haul. That's consistently been the case. Netflix has steadily grown its base to the tune of nearly 1,300% over the past decade.
Disclaimer: Any performance results described herein are not based on actual trading of securities but are instead based on a hypothetical trading account which entered and exited the suggested ...
more