How To Play Bitcoin And Bitcoin Stocks Right Now
Bitcoin's 50-day moving average (MA50) is also trading between these two prices, fortifying the likelihood that we'll see technical buyers "buying the dip." The 50-day moving average has been a reliable support trend line for Bitcoin as far back as 2020. This moving average represents the healthy bull market trend for traders.
Finally, for the more technically driven traders, the 38.2% Fibonacci retracement level from the February lows to the recent highs rests at $51,500. Though watched by fewer traders, this more advanced "Fibo" technical analysis should also provide additional support nestled just below price and trend line support.
How to Play the Best Bitcoin Stocks Right Now
The Grayscale Bitcoin Trust (GBTC) is an irresistible way to augment those long-term Bitcoin profit goals. Contrary to what a lot of investors think, GBTC shares aren't an exchange-traded fund, though that is management's long-term goal. Grayscale listed as a private placement investment in 2013, just a year behind Coinbase. It was a way for "accredited investors" (read: really rich folks) to invest in Bitcoin. The company later listed for public trading and has become an easy way for investors to buy and trade a Bitcoin proxy.
The technical patterns between GBTC and Bitcoin are highly correlated, though the recent drop has taken GBTC shares below their 50-day moving average. In addition, the shorter-term 20-day moving average for GBTC is beginning to form what I refer to as a "Lead Cross" as it crosses below the 50-day.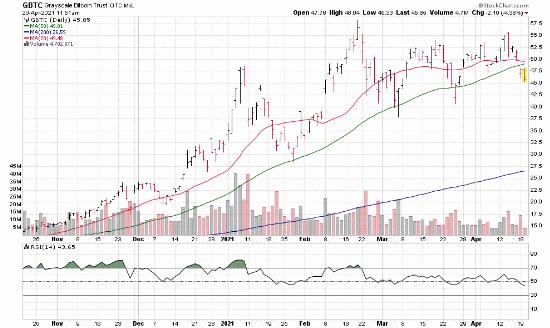 This pattern often precedes short-term volatility and lower prices, which puts GBTC shares in a different "buy now" class than Bitcoin itself. It also mirrors what we're seeing with the Fibonacci retracement levels from the Bitcoin chart above.
The bottom line here: You can expect lower volatility from GBTC… but at the cost of lower returns. This is similar to many ETFs on the market due to management fees and other expenses. That said, were GBTC to become an actual ETF, the resulting greater transparency would probably increase institutional and retail interest in the share – in plain English, that'd be a powerful profit catalyst.
Disclaimer: Any performance results described herein are not based on actual trading of securities but are instead based on a hypothetical trading account which entered and exited the suggested ...
more