How To Play Bitcoin And Bitcoin Stocks Right Now
No doubt we've seen this relationship before – this is just the latest, modern iteration. Think about energy companies. Exxon Mobile Corp. (XOM), Halliburton Co. (HAL), and Chevron Corp. (CVX) are all different producers, just like crypto miners. And just like crypto miners, these companies' prices are driven heavily by the price of crude oil. Once you're aware of that simple yet fundamental connection, you know you have to come back to the "resource" – Bitcoin in this case – as one of the leading drivers of share prices.
What we've seen here is short-term selling and now consolidation. Long term, Bitcoin and other cryptocurrencies have hit a sweet spot; they're innovating at exactly the time the mainstream is adopting them. I'm old enough to remember when the personal computer (PC) went mainstream back in the 1990s – that's the only thing I can remember that even compares.
Like Bitcoin, the PC market got off to a booming start that was marked with volatile peaks and troughs in the trading trends as the "trade" became more crowded with new competition and evolving technologies.
Just like the PC boom, the Bitcoin and Bitcoin stocks boom represents long- and short-term opportunities. Here's what I'm seeing now…
Pull Long- and Short-Term Profits from the Bitcoin Boom
Let's first look at Bitcoin – as a commodity or resource, just like crude oil or semiconductors.
Commodities are often more sensitive to technical analysis since the group of investors and traders watching them is so large. Let's take a look at the chart.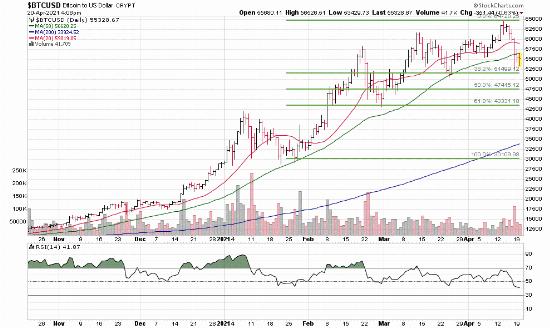 After its sudden pullback, Bitcoin is trading at "interesting" levels, to put it mildly. Three key technicals are likely to drive the next short-term rally in Bitcoin itself.
Round numbered support: It's deceptively simple, but round numbers matter to the market. The psychological impact of round numbers can be seen on many charts on a daily basis.
Today, there are two in play.
The $55,000 price has seen increased price and volume patterns each time it has come into play over the last two months. This level is also compounded by the fact that the $52,500 level has also attracted volume at its price level. Watch for both of these prices to form a short-term bottom as Bitcoin traders remain eager to participate in another short-term rally.
Disclaimer: Any performance results described herein are not based on actual trading of securities but are instead based on a hypothetical trading account which entered and exited the suggested ...
more