How To Be David To Wall Street's Goliath
I just started David and Goliath by Malcom Gladwell. The book details how underdogs overcome obstacles and how those with perceived advantages aren't always in the best position for success.
It's a good lesson for small-budget investors…
The opening of the book describes the biblical story of David and Goliath and how David was able to overcome what seemed to be insurmountable odds to slay the giant.
It turns out that Goliath, despite being much larger than David (and being heavily armed and armored), was not prepared for the shepherd boy's weapon.
Goliath had weapons and armor – he was geared up for close combat. But David had a sling, so he wouldn't have to get near the giant.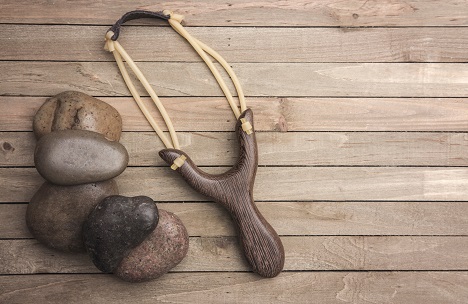 They were fighting two different fights.
Despite being much smaller, David actually had the advantage in that he was able to use his weapon at a distance without ever having to get near Goliath's sword.
Investors are perceived to be at a great disadvantage to Wall Street. The pros have more capital behind them, more knowledge and more tools.
The little guy, armed perhaps with just a few thousand dollars and a Fidelity account, has no chance of beating the big institutions that have four Bloomberg screens, one-on-one calls from analysts and enough financial firepower to buy a small country.
Or do they?
Only 37% of actively managed mutual funds have beaten their benchmarks (the S&P 500 or an appropriate index related to their fund's strategy) over the past 15 years.
Fortunately, regular investors have the financial equivalent of the stones in David's sling: Perpetual Dividend Raisers.
These are companies that raise their dividends every year. By doing so, they outpace inflation and increase buying power.
The longer you hold your Perpetual Dividend Raisers, the less performance you need out of the stocks – though companies that raise their dividends every year typically are growing earnings and cash flow and perform quite well.
Disclaimer: Nothing published by Wealthy Retirement should be considered personalized investment advice. Although our employees may answer your general customer service questions, they are not ...
more