How Overheated Is The Stock Market?
On Twitter, we had a conversation with the viral @StockCats on how overheated the stock market is, where stocks have moved up too fast and sentiment is too high. On the one hand, stocks have had a remarkable year. On the other hand, many of the bears are more confident than ever in their recession calls. Skepticism is great for bull markets, although, to be clear, the data needs to prove the skeptics wrong or else stocks will fall. Obviously, sentiment isn't everything. That's why the discussion of how overheated the market is starts off this article, rather than making up its entirety.
One great measurement of the size and scope of rallies is the percentage of stocks in the S&P 500 above their 50-day moving average. As you can see, 78.2% of stocks are above their 50-day moving average which is much higher than the low late last year and slightly below the high this February.
room to run? pic.twitter.com/8OST7dk87l

— StockCats (@StockCats) July 11, 2019
This indicator was a great bottom signal in December, but it wasn't a great top signal this year since the percentage was elevated in February and the correction was in May. Similar to this index, the CNN fear and greed index shows there is some overvaluation in the market, but it's not the highest of the year. The index is at 58 out of 100 which signals greed.
Economic Surprise Index Differs From Stocks
The US economic surprise index and the S&P 500 seem to act independently, but Oxford Economics found a correlation. Specifically, since the start of the expansion, the 12-month moving average of the U.S. surprise index and the yearly change in the S&P 500 have tracked each other up until recently.
(Click on image to enlarge)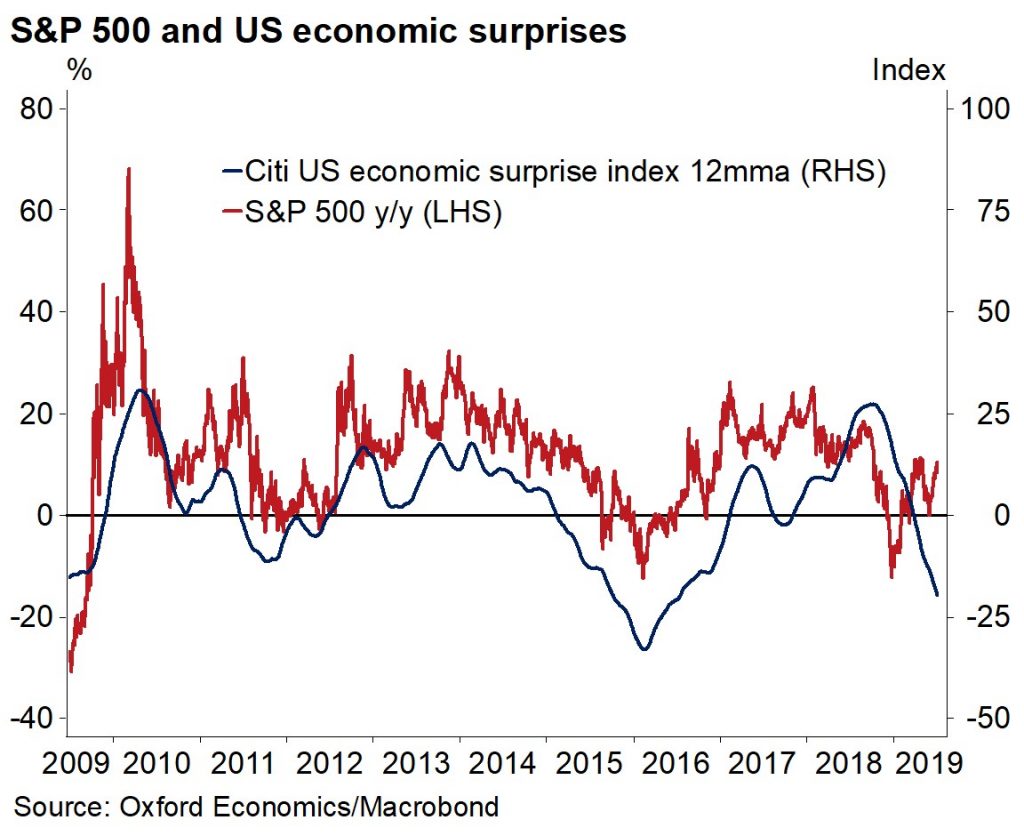 The S&P 500 has obviously been rallying and economic reports have been missing estimates. Recently, job openings, small business sentiment, the ISM non-manufacturing PMI, and the ADP report have missed estimates. The BLS employment reading and the ISM manufacturing PMI beat estimates. Clearly, economists aren't fully on board with the slowdown happening. They should be because the Q2 GDP report will likely show weakness as the median growth estimate is 1.7%.
Disclaimer: Please familiarize yourself with our full disclaimer here.