How Low Can GE Go?
(Click on image to enlarge)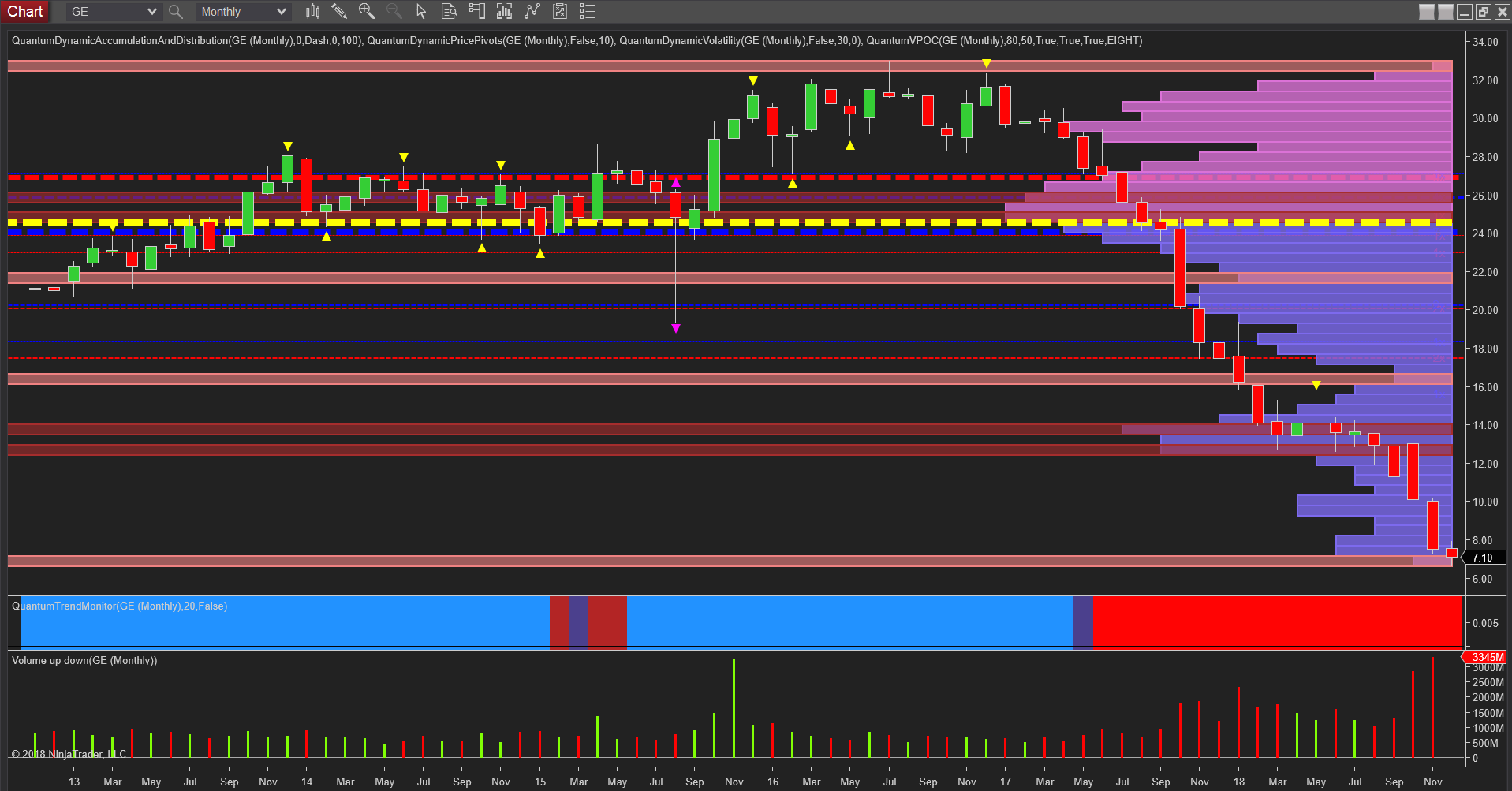 As GE continues its relentless march lower, investors will be asking themselves three questions. First, how low can it go? Second, can it go to zero, and third and most important, when is it the right time to buy for the longer term. After such a dramatic and steep fall for a blue-chip stock such as GE, it's all too easy to run away with the idea that the price is cheap, and therefore a bargain. After all, if the stock traded at $30 – $40 then it can return to these heady levels in the future? It might, but not for a long, long time. It's cheap for a reason. A combination of the fundamentals and lack of buying has seen the price decline relentlessly, and until we see an extended accumulation phase develop now is not the time to be buying from a longer-term perspective.
And the monthly chart for the stock sums this up neatly, and even more so in the last two months with widespread down candles on extreme and rising volume. However, there is a glimmer of hope, which is the price action thus far in December. Here we have a narrow spread and depending on the associated volume at the end of the month, could signal some initial buying, so an interesting couple of weeks ahead. However, we have to remember this is the holiday season, so volumes will be light over this period.
The next question is whether GE is likely to go to zero. And one only has to remember some of the headline cases over the last decade. The short answer is probably not, and so it's a question of watching and waiting for the inevitable accumulation phase to begin, and the typical price action we might expect to see is a 'saucer shape' to develop. A prelude to this is an extensive congestion phase which may last months, before gradually the stock begins to recover slowly, rising gently and finally breaking above the resistance level which has been built. At this point, provided any move higher is supported with rising volume, then and only then is the time to buy.
Disclaimer: Futures, stocks, and spot currency trading have large potential rewards, but also large potential risk. You must be aware of the risks and be willing to accept them in order to invest in ...
more