Home Depot Shares Plunge Most Since 2008 After Slashing Sales Outlook
Home Depot (HD) shares slumped more than 7% in premarket trade, putting shares on track for their worst daily drop since 2008, after the company slashed its full-year sales guidance on Tuesday.
The company also posted Q3 sales that slightly missed expectations.
(Click on image to enlarge)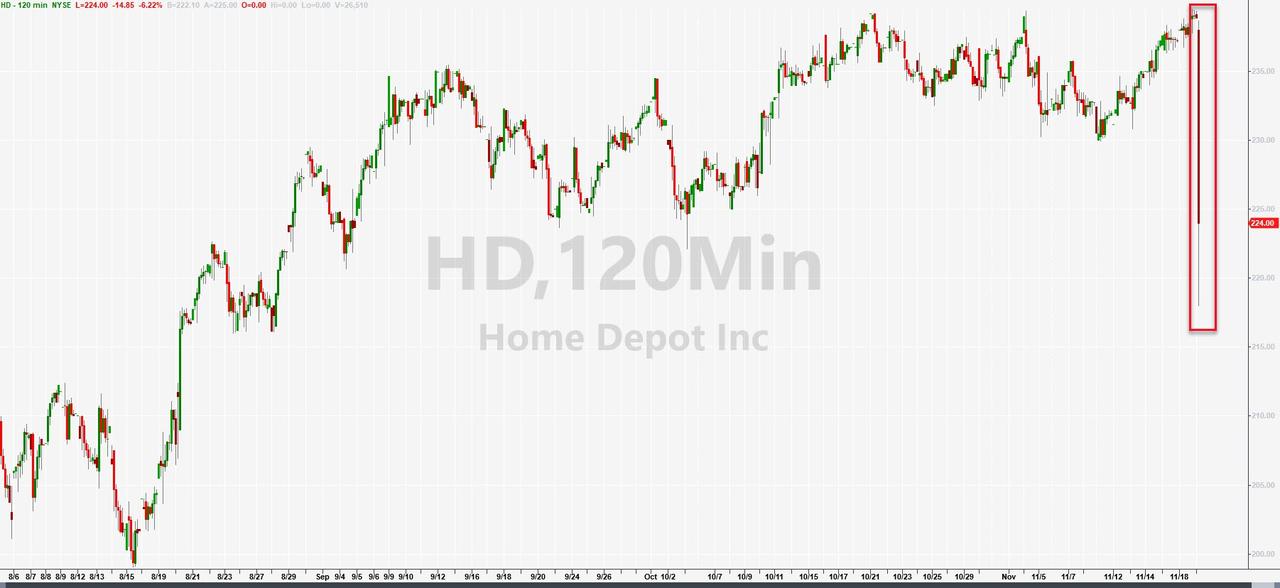 Here's BBG's breakdown of the company's Q3 earnings report...
Sees FY comparable sales about +3.5%, saw about +4%

Sees FY revenue about +1.8%, saw about +2.30%

3Q comparable sales +3.6% vs. +4.80% y/y, estimate +4.6% (Consensus Metrix, average of 25 estimates)

3Q EPS $2.53 vs. $2.51 y/y, estimate $2.53 (range $2.48 to $2.58) (Bloomberg data)

3Q net sales $27.22 billion, +3.5% y/y, estimate $27.52 billion (range $27.35 billion to $27.72 billion) (BD)

3Q U.S. comparable sales +3.8% vs. +5.40% y/y

3Q average ticket sales $66.36, +1.9% y/y

3Q total location count 2,290, estimate 2,290

3Q customer transactions +1.5%

3Q average ticket +1.9%, estimate +2.41%
The action in Home Depot shares weighed on Dow futures ahead of the bell:
(Click on image to enlarge)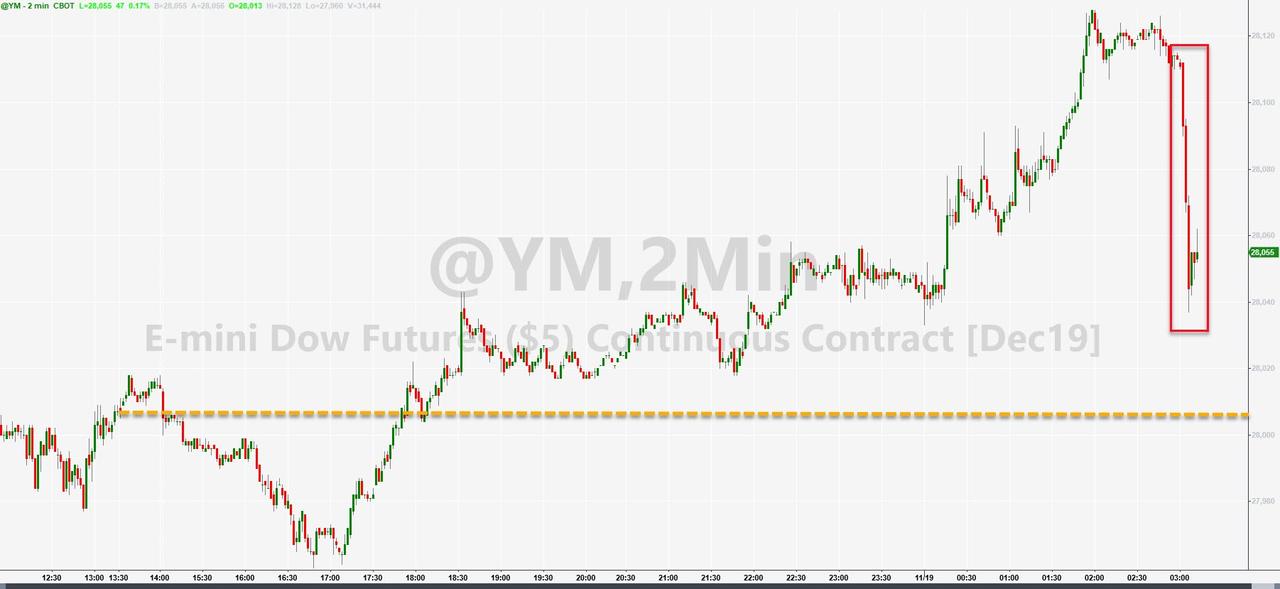 Home Depot CEO Craig Menear cited continued lumber deflation for the lower sales forecast. The company also blamed potential tariff impact for its lower full-year revenue guidance.
Read the company's press release below:
The Home Depot, the world's largest home improvement retailer, today reported third quarter fiscal 2019 sales of $27.2 billion, an increase of 3.5 percent, or $921 million, compared to the third quarter of fiscal 2018. Comparable sales for the third quarter of fiscal 2019 were positive 3.6 percent, and comparable sales in the U.S. were positive 3.8 percent. Net earnings for the third quarter of fiscal 2019 were $2.8 billion, or $2.53 per diluted share, compared with net earnings of $2.9 billion, or $2.51 per diluted share, in the same period of fiscal 2018.
For the third quarter of fiscal 2019, diluted earnings per share increased 0.8 percent from the same period in the prior year.
Disclosure: Copyright ©2009-2019 ZeroHedge.com/ABC Media, LTD; All Rights Reserved. Zero Hedge is intended for Mature Audiences. Familiarize yourself with our legal and use policies every ...
more