Home Depot Fix Up Is Coming: Analysts Not As Bearish As Investors After Sales Miss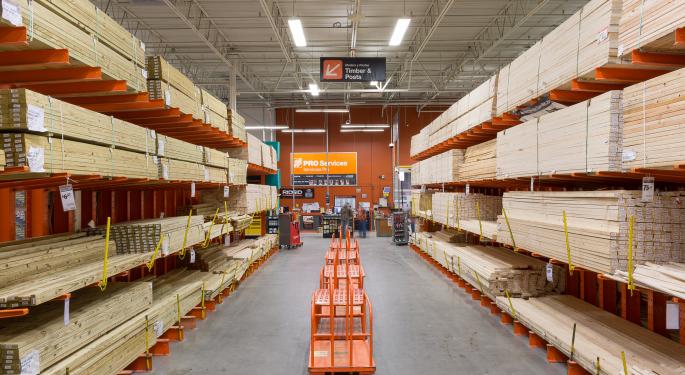 Photo courtesy of Home Depot.
Home Depot Inc HD shares were dropping again on Wednesday, continuing a sell-off that followed a revenue miss, disappointing same-store sales and a downward revision to guidance.
But several sell-side analysts said underlying trends point to a sales rebound, adding the company should see a benefit from IT upgrades making an argument for staying with the big box DIY retailer.
Home Depot reported a third-quarter revenue miss and guided 2019 sales down for a second time, while also reporting softer comparable store sales, which drove the stock down about 5% after the print.
The Analysts
Wedbush analyst Seth Basham remains Neutral on Home Depot with a $230 price target.
Baird Equity's Peter Benedict kept an Outperform rating on the stock and upped the target price from $230 to $245.
Bank of America's Elizabeth Suzuki reiterated a Neutral stance and $235 price target.
Wells Fargo's Zachary Fadem reiterated an Outperform rating and has a $260 target price.
Several analysts noted Home Depot attributed its miss and guide down to slower-than-expected completion of IT work aimed at improving customer experience. Those improvements, while delayed, are still expected to come through, and when they do, sales improvements should follow, analysts said.
Housing Trends Impact On Home Depot
The question for Home Depot remains the degree to which housing trends and lower interest rates will translate into demand. While housing market trends are mixed, several analysts said they favor Home Depot.
Investors are skeptical after three straight quarters of comp sales misses, but near-term pressures are easing or reversing, said Fadem. "We believe (Tuesday's) share reaction ... likely proves temporary despite shares approaching an all-time high."
Basham and Suzuki both noted strong execution, with EPS doing well despite the sales misses.