Here's When To Buy AMC Stock
Shares of AMC Entertainment Holdings Inc. (NYSE: AMC), the large movie theater operator, soared by more than 30% on Tuesday as investors made bets the company could survive the pandemic. AMC said it had obtained $100 million in financing from Mudrick Capital Management, a distressed debt investment firm in New York.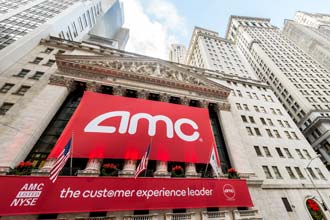 The firm sold five-year notes with a 15% interest rate.
With the vaccine being delivered and promises of accelerating vaccination programs in the months ahead, could AMC stock make it through the other side of this and recover?
It could. But it is an uphill battle.
There may be a "right" time to buy AMC stock, under certain conditions…
What's Holding AMC Back?
Raising $100 million is nice. But it needs a total of $750 million to survive through the end of the year.
Its existing lenders, including private equity giant Apollo Global Management Inc. (NYSE: APO), distressed debt investor Canyon Capital, and Davidson Kempner Capital Management, are pushing AMC to file bankruptcy.
These companies have even offered to put up the $1 billion in debtor-in-possession financing that would be required to keep the theaters operating all year while the bankruptcy proceeding is completed.
Why would they encourage a firm that owes them $1 billion to go bankrupt?
Apollo and its fellow investors would end up with most if not all of the reorganized AMC's equity. Leon Black of Apollo cut his teeth in this business working with Michael Milken at Drexel, so he understands the distressed debt game.
Even though Apollo is best known as a private equity firm, their first several deals after they formed Apollo were buying distressed debt of broken Drexel deals. They took the equity in bankruptcy and made a fortune as the now de-levered companies prospered.
Mr. Black and his associates are well aware of AMC's potential value if they shed all the debt and dispose of unwanted leases via bankruptcy. The new equity will be worth somewhere between five and 10 times what the company trades for today.
Disclaimer: Any performance results described herein are not based on actual trading of securities but are instead based on a hypothetical trading account which entered and exited the suggested ...
more