Here's What Analysts Are Expecting From Tesla Earnings
Bloomberg Intelligence:
Tesla delivered 185,000 vehicles globally in 1Q, exceeding the 180,000 mark in consecutive quarters, while price reductions in various markets suggest demand remains tenuous
Installed capacity stands at 1.05 million units, implying 1Q utilization below 80%, with additional plants under construction in Austin, Texas, and Berlin
Tesla's lead in global EV sales slipped 100 bps to 24% in 2020 vs. 2019, whereas the share of the VW Group rose to 9% from 4% in 2019, on track to overtake Tesla in 2023
Tesla earned $1.6 billion in regulatory credits from its peers in fiscal 2020 -- allowing for a positive bottom line -- a task now more complicated as legacy manufacturers become self-reliant
Jeffrey Osborne, an analyst at Cowen said in early April: "We acknowledge Tesla has shaken up the auto industry, but recent commitments and advancements from incumbent automakers such as Volkswagen and General Motors suggest to us that Tesla has achieved peak market share within the EV category,"
On Thursday, Morgan Stanley's Adam Jonas commented: "Tesla sees itself as the apex player during the most formative phase of the industrialization of sustainable propulsion and transition off of fossil fuels."
Bloomberg Intelligence analyst Kevin Tynan commented: "Even in its first profitable year of 2020, adjusted pretax income was less than the earnings from selling credits to automakers that can't build pickups and SUVs fast enough. The irony is that despite all the EV hype, legacy automakers are making so much money from selling internal combustion pickup trucks and SUVs that it has made Tesla look profitable."
The options market is pricing in a move of 7.2% for tonight's report, according to Bloomberg.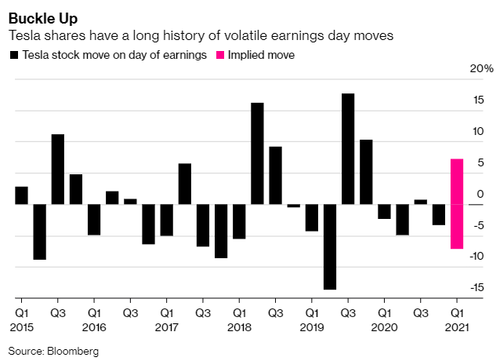 Disclaimer: Copyright ©2009-2021 ZeroHedge.com/ABC Media, LTD; All Rights Reserved. Zero Hedge is intended for Mature Audiences. Familiarize yourself with our legal and use policies every time ...
more