Here's What Analysts Are Expecting From Tesla Earnings
We'll see if that is still the case, given the CCP's apparent new tone with the company.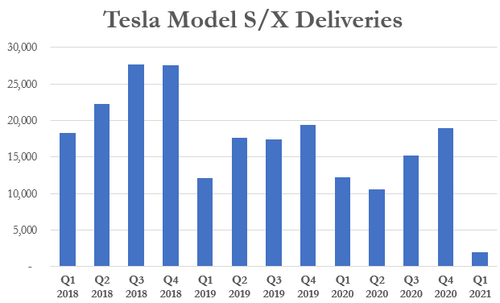 All eyes also remain on the scorching hot traction that legacy automakers have begun to get with their EV plans - including Ford's recent Q1 where it sold over 6,000 Mustang Mach E crossovers. Analysts are looking to see if these EV sales will eventually cut into Tesla's marketshare.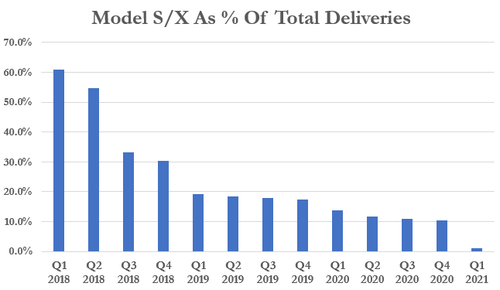 And so, heading into earnings tonight, here is what analysts are expecting, courtesy of a Monday morning wrap-up by Bloomberg:
Morgan Stanley (overweight):
Expects the EV maker to frame its expansion along product lines and assembly plants as the narrative for remainder of the year
Raises FY21 delivery forecast by 3% to 809k units in a note dated April 22; Also lifts PT to $900 from $880
Says Tesla's immediate priority is to expand capacity and industrialize its EV "hegemony" before the market gets crowded
Believes the company needs to address any number of issues around sustainably sourced battery manufacturing and supply chain to establish its position as the apex player during the phaseout of fossil fuels
Wedbush (outperform):
Expects Tesla to report earnings with upside across the board, driving the stock "much higher over the coming months"
Believes the company could exceed 850k deliveries for 2021 despite the chip shortage and various supply chain constraints
Says pent-up demand in China and Europe was robust this quarter; sees inflection in demand to come in the U.S. once the EV tax credit ceiling gets lifted
Besides Tesla's annual delivery trajectory, will also focus on Musk's comments on the timing of Berlin factory, chip shortage, Model Y trajectory, Cybertruck build-out timetable, and autopilot/FSD safety
Cowen (market perform):
Recent commitments and advancements from automakers such as Volkswagen and GM suggest that Tesla has achieved peak market share within the EV category
However, Tesla's investment in battery technology and electrical efficiency can make then tough to chase in the short term
Strong deliveries in 1Q and quick ramp-up at the China facility shows the company is able to refine its process, making deliveries less lumpy and back-end loaded
Disclaimer: Copyright ©2009-2021 ZeroHedge.com/ABC Media, LTD; All Rights Reserved. Zero Hedge is intended for Mature Audiences. Familiarize yourself with our legal and use policies every time ...
more