Here's The Next GameStop-Style Short Squeeze
The only difference with GameStop is the size, volatility, and, let's face it, media coverage of the short squeeze. Mechanically, the same forces are at work.
Now, let's get real: GameStop's trade is over – for a number of reasons. I'm telling you, don't touch it; as new positions go, it's Chernobyl-level radioactive at this point. A look at the put options on GME on Thursday showed me that you were paying 85% premiums to buy a put that was 50% out of the money.
That's bad.
But, not to worry – the next opportunity is just around the corner, and it's very likely on this list I'm going to share with you.
The stocks on this list are the real deal. The numbers were refreshed, the trends confirmed. These stocks are poised to make some sharp moves higher over the next few weeks. Again, don't expect 900% gains from these – GameStop is an extraordinary case. Me? I'm happy to double the market most of the time, and I've seen short squeezes like this accelerate 10%, 20% in a short time.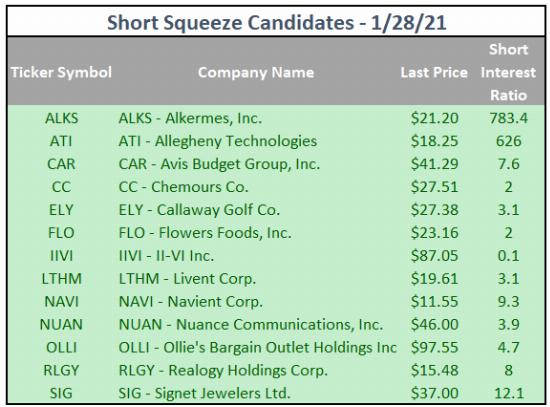 I always like to break down a few of the stocks to give you an idea of my favorites in the group and why.
There's II-VI Inc. (Nasdaq: IIVI). More than six months ago, this was one of the stocks that I talked about during my weekly Fast Profits segment. The small semiconductor company operates out of Pittsburgh and focuses on the technology of semiconductors and lasers (believe me, I'm simplifying this for time).
We've seen some good earnings reports from the company over the last six months as well as the acquisition of another company as part of IIVI's planned growth.
The technically strong stock continues to defy gravity and the bearish short sellers. Short interest on the stock peaked two weeks ago, which means the shorts are starting to cover.
Another push higher above $95 will get the shorts coming into the market to cover their stock with a target price of $110 in some fast action.
Disclaimer: Any performance results described herein are not based on actual trading of securities but are instead based on a hypothetical trading account which entered and exited the suggested ...
more