Hedge Funds Are Abandoning This Investment In Droves
The last time this happened was in mid-2015 when they began liquidating their long positions in oil. From that point, oil dropped another 60%. Right now, that same trend is developing but with a different investment, and it could fall just as hard. Here's how to prepare your portfolio.
Now, we've been notable U.S. dollar bulls for over 18 months, and it's worked out well. Our top pick from 2014, Ross Stores (NASDAQ: ROST) is up 40% since then, thanks to its U.S.-only focus. Then, from 2015, our pick Tyson Foods (NYSE: TSN) is up 65%.
In any case, we go to where the best opportunities are. And it appears the tides are shifting for the U.S. dollar.
This comes as there are a few things working against the dollar right now, including the Federal Reserve's dovish stance on interest rates and an unsteady global economy.
With that, while hedge funds, until recently, had their largest bets on the U.S. dollar in years, they've started to make their exodus.
Back in March, hedge funds started abandoning their currency bets at an increasing rate. This marked the biggest one-month fall for the U.S. dollar since 2010. The U.S. dollar index is now down 5% this year.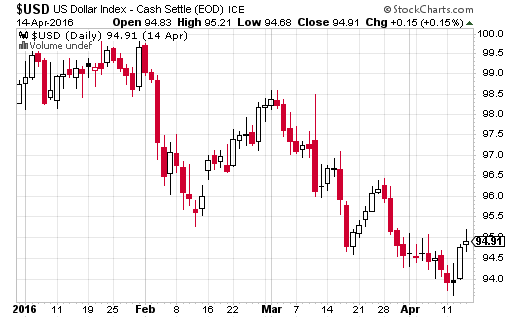 The dollar weakness also comes as the Federal Reserve is taking a dovish approach to raising interest rates. The key item to watch for is a Fed rate hike. The next meeting is in June, and it's unlikely they'll do anything. Then their next meeting after that will be in September, where they'll likely also not raise interest rates given the proximity to U.S. elections. The last time the Fed raised rates in September of an election year was 2004.
It looks like the first possible date for a rate hike won't be until December. Even then, it's questionable as U.S. company earnings as a whole have deteriorated the most since 2011. The weakening in earnings will put more pressure on the U.S. economy – we really are entering a vicious cycle.
Disclosure: You could collect an average of $3,268 in extra monthly cash with ...
more