Guardant Health: Strong Momentum And Enormous Opportunities
Guardant Health (GH) is a high growth business with enormous potential and truly disruptive technologies. A position in Guardant Health carries significant risks in terms of both the business and the stock price. However, the long term upside potential may well be worth the risk.
Strong Growth And Abundant Potential
Guardant is a pioneer in liquid biopsies that detect cancer signals in the blood by analyzing fragments of DNA. Over the long term, the company is working on technologies for the detection of cancer at early stages, which could be a game-changer for patients. Early detection of cancer can significantly improve the effectiveness of treatments, potentially saving countless lives.
The company's Guardant360 platform detects genomic biomarkers in the blood in order to help doctors to find the most effective treatments for patients, and Guardant also provides the technology for other companies to develop and test different kinds of drugs.
Management estimates that the size of the addressable market opportunity could be worth as much as $50 billion in the U.S. alone. Guardant is expected to make $277.78 million in revenue during 2020, so the company is barely getting started in terms of capitalizing on its long term growth opportunities.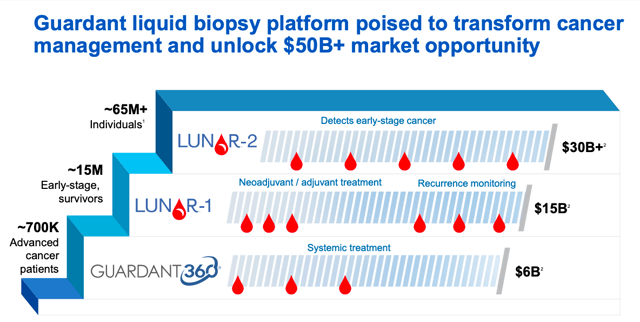 Source: Guardant
The company is growing at an impressive speed. Management said during the most recent conference call that the business was starting to feel the impact of COVID-19 during the second half of March and into April, but the numbers for the first quarter of 2020 were still clearly strong.
Revenue reached $67.5 million during the period, an 84% increase versus the same quarter in the prior year. The increase was driven by significant increases in both testing volume and average selling price for ASP per test. Total precision oncology testing revenue for the first quarter was $60.2 million up 109% versus the same quarter in the prior year.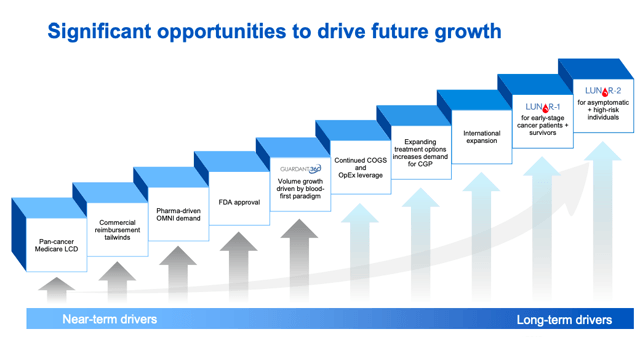 Source: Guardant
Precision oncology revenue from clinical tests in the first quarter totaled $38 million up 122%, and first-quarter clinical precision oncology volume totaled 15,257 tests, up 60%. Due to the COVID-19 pandemic, test volume was adversely in March, resulting in no growth from the prior quarter volume of 15,270 tests.
Disclosure: Editors' Note: This article discusses one or more penny stocks and/or microcaps. Such stocks are easily manipulated; do your own careful due diligence.
I/we have no ...
more