Google Soars On Blowout Earnings, $50BN Stock Buyback
Image Source: Pexels
Judging by the just-released Q1 blowout earnings from Google (GOOG, GOOGL), the one thing that companies just can't do without during the biggest government recession stimmy handout in history is advertising.
Moments ago, Google parent Alphabet reported Q1 earnings (at the abc.xyz URL) that blew expectations out of the water-powered by an increase in digital ad spending by businesses looking to expand during the pandemic reopening:
EPS $26.29, smashing expectations of $15.64
Revenue $55.31B, slamming expectations of $51.61B
Revenue ex-TAC $45.60 billion pounding the estimate $42.61 billion

Google Cloud Rev. $4.05B, est $3.99B
Google Services revenue $51.18 billion, -3.2% q/q
Other Bets revenue $198 million, estimate $161.9 million

Oper Income $16.44B, trouncing expectations of $12.02B
Oper Margin 30%, steamrolling the consensus est. 22.4%
Of note, YouTube ads and Google Cloud, two key growth areas for Google, posted solid gains. YouTube ads rose about 48% from the prior year, and Cloud went up 46%.
Amusingly, Google's "other bets" category came in at $198 million, up from $135 million in the year-ago quarter.
The revenue breakdown visually:
(Click on image to enlarge)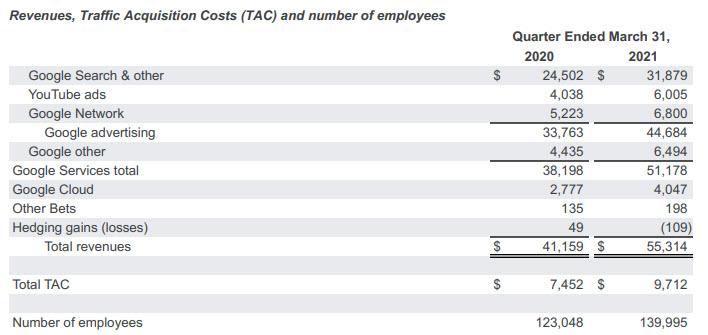 As can be seen in the chart above, Alphabet added about 17,000 employees in the past year, and 4,000 employees during the quarter, for a total of 139,995 direct employees. (It also has a great number of contracted ones too.) In prior quarters, the company has said its hiring is mostly going to its Cloud unit, Bloomberg notes.
Some more headlines:
Accounting Change Reduced 1Q Depreciation by $835M
Co. Revised Useful Life of Servers, Some Network Equipment
Accounting Change Added 95c/Shr to 1Q EPS
Now the not-so-great news: Google Cloud continues to lose money -- about $974 million last quarter, after burning $1.7BN a year ago, while Google Bets lost $1.1BN.