Goldman Upgrades Exxon To Buy For The First Time In Four Years As Cycle Begins To Turn
Just one day after Wells Fargo issued a rare upgrade on beaten-down energy giant Exxon, late on Tuesday Goldman did what it hasn't done since 2016, and it upgraded Exxon from Neutral to a Buy - just two months after it upgraded the major from a Sell - with a $52 price target given Exxon's "potential for capital/cost reductions, Guyana and Chemicals upside, improved free cash flow versus history, underweight positioning and our constructive view on crude."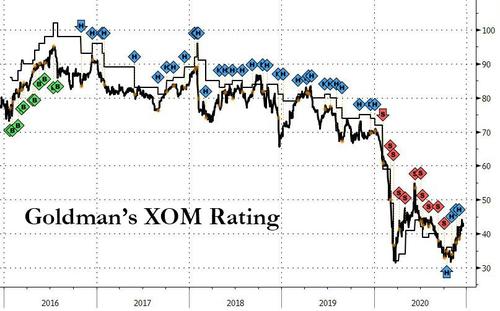 As analyst, Neil Mehta explains, "we have been skewed more cautious on Exxon for multiple years given a history of weak returns, concerns around capital discipline, room for a clearer decarbonization strategy, a dividend policy that added leverage to the business and lackluster earnings execution." And while each of these concerns are still an issue that management will need to respond to, the rate of change is moving in the right direction, and with the stock trading at only 10.1x Goldman's 2022 P/E estimate (versus a 10-year history of 15x), the analyst believes "investors are able to acquire the stock at a reasonable valuation level." Furthermore, with XOM shares down 38% in 2020, the bank now sees "much of these risks as priced into the story and see low hanging fruit to make progress on each of these concerns."
Some more details behind the four key points underpinning Goldman's upgrade.
First, the company has meaningfully lowered its capital spending outlook from $30-$35 bn to $17-$19 bn in 2021 and $20-$25 bn in 2022-2025.

Second, while not our base case, we no longer see a potential dividend cut as a negative catalyst given the leverage guard rails the company has put around it. We continue to believe a variable dividend strategy has potential to be well-received by the market.

Third, we see value in the company's growth assets including in Guyana and Chemicals.

Fourth, we see more attractive valuation following underperformance, with XOM now trading at an EV/DACF discount to Buy-rated CVX versus its historical premium.
Disclaimer: Copyright ©2009-2020 ZeroHedge.com/ABC Media, LTD; All Rights Reserved. Zero Hedge is intended for Mature Audiences. Familiarize yourself with our legal and use policies every time ...
more