Goldman Trading Revenues Disappoint In Quarter Salvaged By Surge In M&A Deals
Following JPMorgan's across the board beat, and Wells Fargo's latest disappointing results, moments ago Goldman reported a mixed set of numbers, with the company solidly beating on earnings, as EPS came in at $5.71, above the $4.89 expected, while revenues disappointed, printing at $8.81BN, below the $8.99BN consensus exp., and down 13% from a year ago. Of note, Goldman reported an effective income tax rate for Q1 of 17.2%, up from the full year rate of 16.2% for 2018, as the tax cut tailwind is now officially over.
Looking at the big picture, in the positive column, was Goldman's announcement that the company was boosting its dividend from $0.80 to $0.85, allaying fears that the 1MBD scandal is now well in the rearview mirror. The flipside, however, was that revenue has continued to shrink at the bank as the news management appears unable to find the sweet spot for the bank's potential...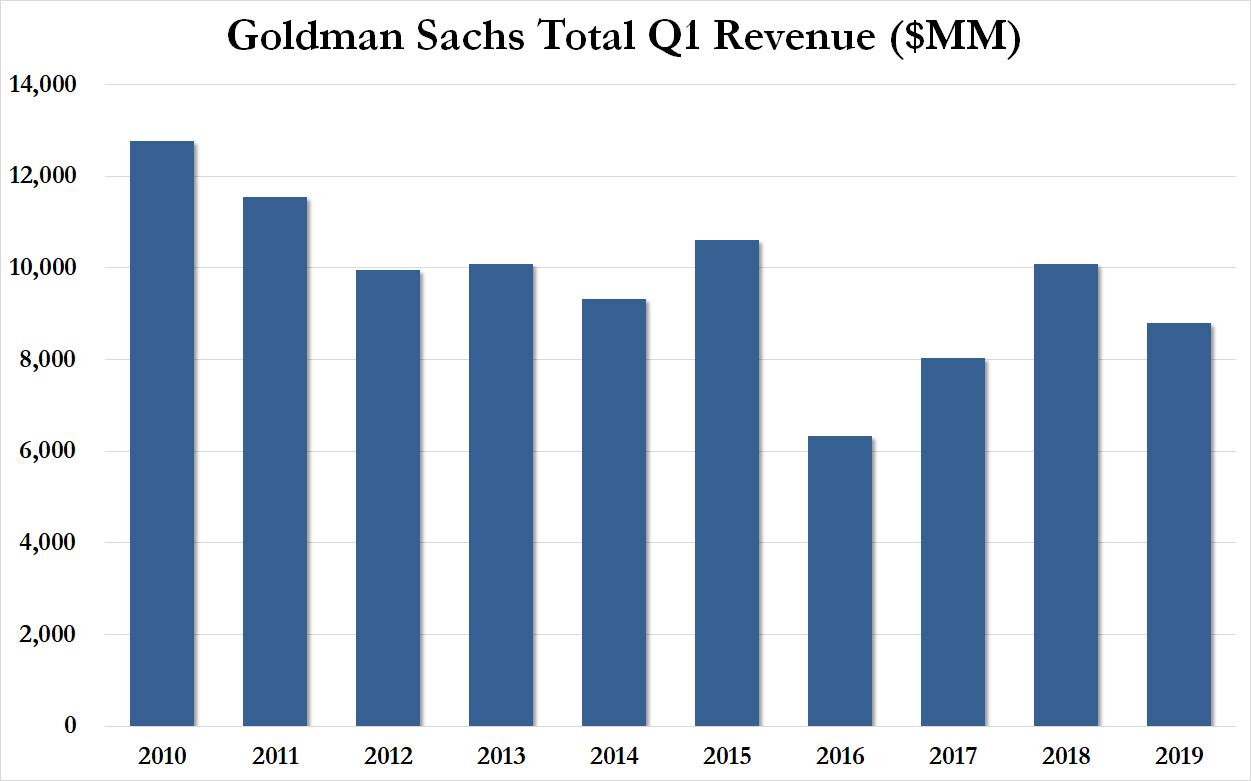 ... while the company core verticals, FICC, and equities, both underwhelmed, with the latter missing expectations, as Goldman's equity traders brought in $1.77 billion, 24% lower than last year, and below the $1.83 billion expected. As Bloomberg notes, that's basically inline with the $1.74 billion JPMorgan brought in. Discussing the disappointing results, Goldman said that Q1 net revenues significantly decreased YoY as the "market backdrop was more favorable in 1Q18", to wit:
Equities client execution net revenues decreased significantly, particularly in derivatives, versus a strong 1Q18
Commissions and fees decreased, reflecting lower market volumes
Securities services net revenues decreased, primarily reflecting lower average customer balances
The equity weakness was offset by stronger than expected FICC numbers, as revenue in the highest margin segment printed at $1.84BN, above the $1.78BN expected, but well below the $2.084BN from a year ago. Commenting on the 11% drop Y/Y in FICC, Goldman said that this reflected "lower net revenues in interest rate products, currencies, and credit products, partially offset by higher net revenues in mortgages and commodities."