Goldman Jumps After Monster Equity Trading Quarter Thanks To Reddit, SPAC Mania
There were shades of the Goldman Sachs "of old" - not the current Frankenstein monster trying desperately to cater to consumers with Apple co-branded credit cards - in the bank's reported Q1 quarter results, which were an absolute blockbuster, and which unlike the report from JPM were not artificially goosed by billions in reserve releases.
Goldman reported Q1 net revenue and EPS that blew away expectations, as follows:
Q1 Revenue of $17.70 billion, smashing estimates of $12.55 billion and up a ridiculous 102% from the $8.74 billion from a year ago.
Q1 EPS of $18.70 also smashing estimates of $10.22, and up a casual 498% Y/Y
Here is a Q1 snapshot...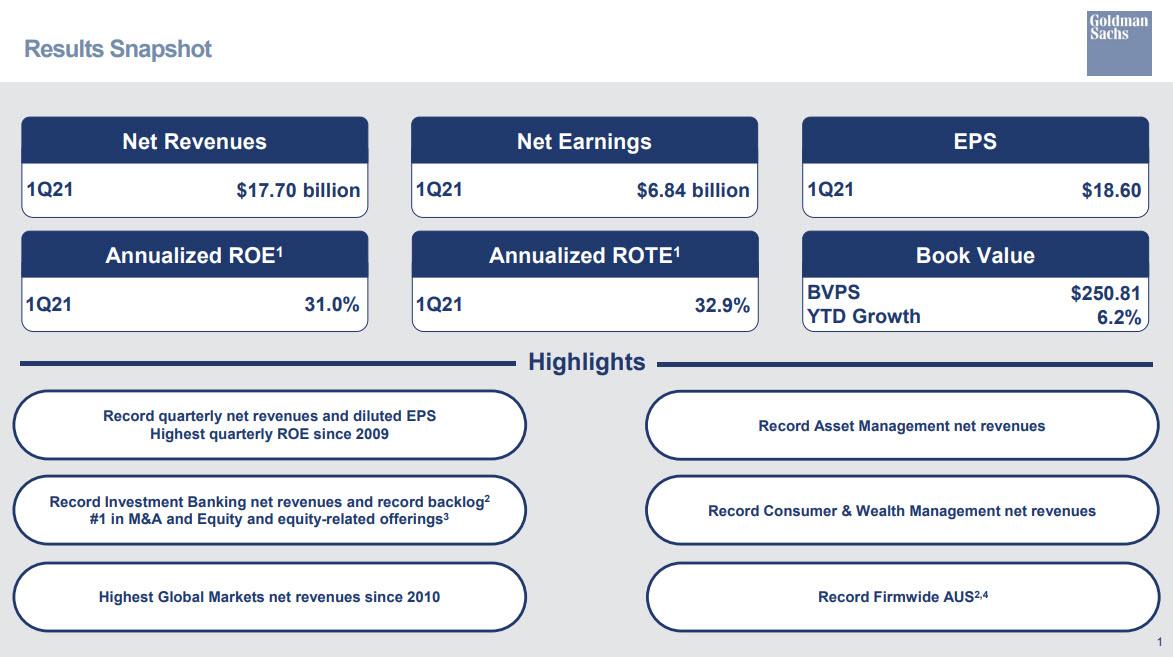 ... and details: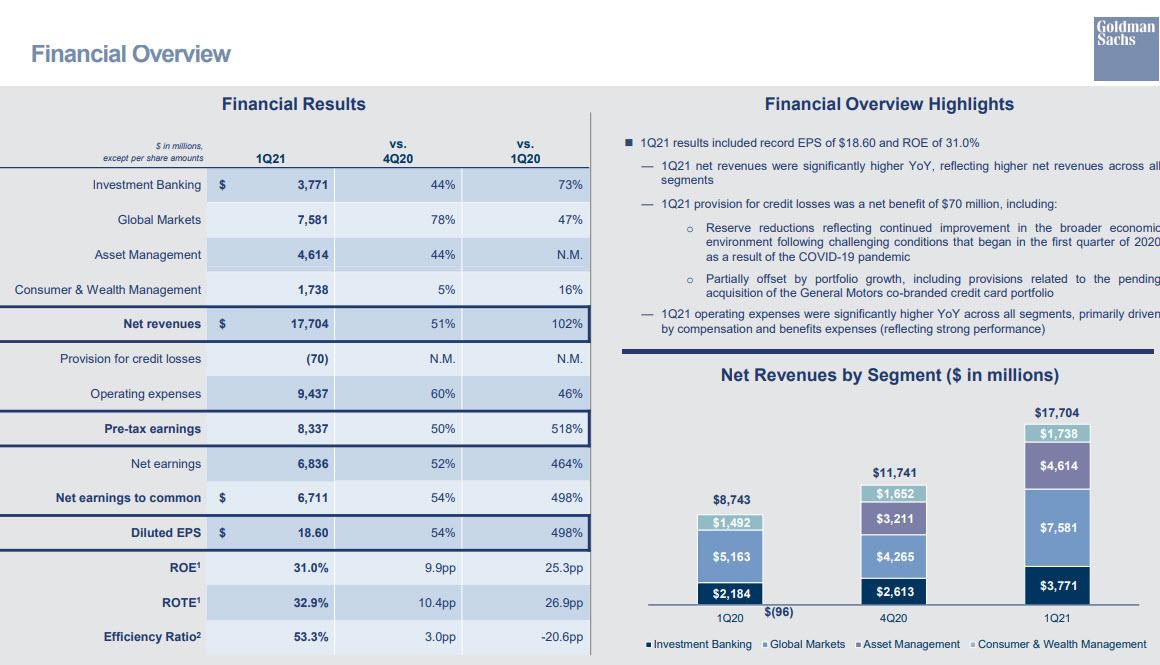 Some more details from the quarter, where a notable jump was seen in asset-management revenue which surged to a record $4.61 billion, backed by a surge in equity investments.
Net Interest Income (NII): 1.48bln (exp. 1.45bln)
Loan Loss Provisions: -70mln (exp. +332.38mln)
CET1 Ratio: 14.3% (exp. 14.24%); advanced 13.5%
Asset Management: 4.61bln (exp. 2.21bln)
Consumer & Wealth Management: 1.74bln (exp. 1.66bln)
Global Markets: 7.58bln (exp. 4.89bln);

Equity S&T 3.69bln (exp. 2.43bln);
FICC 3.89bln (exp. 2.92bln)

Investment Banking: 3.77bln (exp. 2.55bln)
As expected, the biggest revenue driver was the bank's trading division, where revenue surged 47% to $7.58 billion - the group's best performance since 2010 - led by the equities division, which benefited from the day-trading Reddit crowd that helped turn the first quarter of 2021 into one of the wildest periods of stock-market mania in modern history.
The results were broken down as follows:
FICC sales & trading revenue $3.89 billion, up +31% y/y, almost $1BN above the estimate $2.92 billion
Equities sales & trading revenue $3.69 billion, up a massive +68% y/y, and a whopping 50% higher than the estimate $2.43 billion
Disclaimer: Copyright ©2009-2021 ZeroHedge.com/ABC Media, LTD; All Rights Reserved. Zero Hedge is intended for Mature Audiences. Familiarize yourself with our legal and use policies every time ...
more