Goldman Bought $100M Of Deliveroo Shares During "Worst IPO Ever"... And Still Made Money
Goldman Sachs managed to avoid billions of dollars in potential losses from the implosion of highly levered hedge fund Archegos Capital Management by breaking ranks with other syndicate banks to dump large blocks of shares representing Archegos's exposure to a coterie of tech and media names. When the dust settled, the bank told shareholders any losses would be insignificant, while Credit Suisse, the bank with perhaps the biggest exposure, said Tuesday it has booked a nearly $5 billion loss.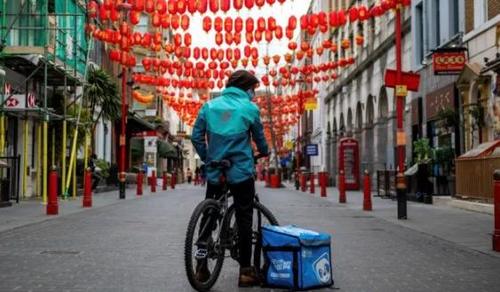 But it looks like Archegos' collapse wasn't the only disaster to rattle the Vampire Squid. As we previously noted, the bank served as one of the lead underwriters and stabilization agents for Deliveroo's abysmal London IPO, which has been criticized as the worst IPO in London's history for the massive drop the shares suffered during their market debut (sliding 31% after pricing at the bottom of their range).
But amazingly, while 70K retail traders got burned in the IPO after Deliveroo allowed customers and employees to invest in the early allocations via a platform called PrimaryBid (all told, they invested £50 million), Goldman managed to walk away with a modest profit. According to the FT, Goldman bout about £75 million in Deliveroo on the open market to help prop up the price. That amount was equal to roughly 25% of the shares traded during the first two days of trading last week, according to Bloomberg data. Even though the shares had shed nearly one-third of their value, the FT said Goldman likely booked a profit on the trade, which was tantamount to closing a short position after the bank sold its over-allotment - though some of these profits will be surrendered to Deliveroo.
So far, Goldman has used roughly half of its overallotment, per the FT.
The £75m worth of purchases by Goldman Sachs, when used in combination with the "overallotment" reserved for stabilising the IPO, mean the bank should have booked a profit from Deliveroo's declining share price.

This is because brokers sell more stock than their allotments at the issue price and then cover their orders either by exercising the overallotment option or, if the shares fall, by buying in the market at below the flotation price. The difference between the 390p issue price and whatever Goldman Sachs paid in the market equates to the profit booked on the trade.

But these profits will be surrendered to Deliveroo, as part of an agreement between the two companies which was not disclosed in the company's IPO prospectus, people with direct knowledge of the matter added.

Goldman Sachs and Deliveroo declined to comment.
Disclaimer: Copyright ©2009-2021 ZeroHedge.com/ABC Media, LTD; All Rights Reserved. Zero Hedge is intended for Mature Audiences. Familiarize yourself with our legal and use policies every time ...
more