Give Your Portfolio A Tune-Up With This Parts Manufacturer
There's no denying COVID-19's impact on the global economy. For those willing to see past the current upheaval, there is value to be found in the market. With less discretionary income and lowered demand for public transit, experts believe the already aging vehicle population could grow older and drive more miles after COVID-19. If so, this leading replacement parts provider should experience even stronger profit growth.
Plus, the expectations baked into its current stock price imply the economy never recovers and its profits permanently decline, which means the stock holds significant upside in conservative recovery scenarios. Standard Motor Products (SMP: $41/share) is this week's Long Idea.
Baby Thrown Out with the Bathwater
We first made Standard Motor Products a Long Idea in May 2017 and since then the firm's profits have improved, but its valuation has only gotten cheaper.
Before COVID-19, Standard Motor Products was leveraging its product quality and the breadth of offerings to grow its business. While the aftermarket auto repair industry will certainly face challenges in the short term, we expect the demand for these products will rebound strongly as the economy recovers.
Standard Motor Products' History of Profit Growth
Standard Motor Products has a strong history of profit growth. Over the past decade, Standard Motor Products has grown revenue by 4% compounded annually and core earnings[1] by 18% compounded annually, per Figure 1. Core earnings provide a better measure of profitability and truer insights into valuation than similar measures of profits from legacy data providers.
Longer-term, Standard Motor Products has grown core earnings by 13% compounded annually over the past two decades. The firm increased its core earnings margin from 2% in 2009 to 6% in the trailing-twelve-month period (TTM).
Figure 1: Core Earnings & Revenue Growth Over the Past Decade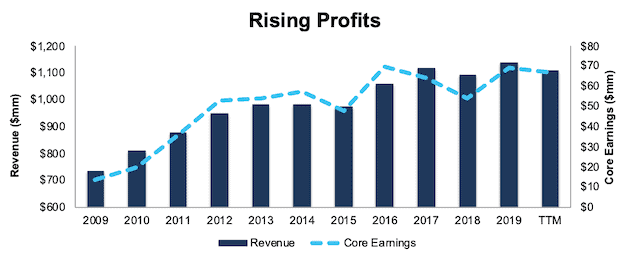 Sources: New Constructs, LLC and company filings.
Standard Motor Products's rising profitability helps the business generate significant free cash flow (FCF). The company generated positive FCF in each of the past 10 years and a cumulative $147 million (16% of market cap) over the past five years. Standard Motor Products's $9 million in FCF over the TTM period equates to a 1% FCF yield.
Ample Liquidity to Survive the Downturn
To maintain financial flexibility, Standard Motor Products borrowed $75 million under its current revolving credit facility. The firm has $47 million more available under this facility, with an additional $50 million accordion feature. When combined with the cash on hand at the end of 1Q20, Standard Motor Products has over $185 million in available liquidity, which will allow it to weather the economic downturn.
In order to further reduce costs, Standard Motor products has also lowered production levels, reduced executive salaries by 10-25%, reduced non-employee directors' fees by 25%, and suspended dividends and stock repurchases.
In a worst-case scenario, where Standard Motor Products generates no revenue, the firm could operate for over nine months with its available liquidity before needing additional capital. This scenario assumes Standard Motor Products maintains selling, general and administrative expenses ($56 million in 1Q20) and capex ($4 million in 1Q20) at current levels.
However, it's highly unlikely that Standard Motor Product's revenue would go to zero given the essential nature of the auto repair business. The firm generated $254 million in revenue in 1Q20, which included the first few weeks of the many stay-at-home orders issued across the country. Furthermore, consensus estimates expect revenue to fall just 11% in 2020 before rebounding in 2021.
Profitability Is Closing the Gap with Peers
Before the current crisis, Standard Motor Products's profitability was trending higher and at a faster pace than its competitors. This improved profitability is a testament to Standard Motor Products's focus on efficiency, which leverages its low cost manufacturing across the globe. Improved profitability also provides Standard Motor Products with greater flexibility to adapt to reduced demand and still partake in the economic rebound as we clear the COVID-19 restraints on the economy.
Per Figure 2, Standard Motor Products's net operating profit after-tax (NOPAT) margin has improved from 5% in 2015 to 7% TTM. Over the same time, the market-cap-weighted average of 31 other Auto, Truck, and Motorcycle Parts firms hovered around 8%. Standard Motor Products's peer group includes Delphi Technologies (DLPH), Dorman Products (DORM), Visteon Corp (VC), Lear Corp (LEA) and more.
Figure 2: NOPAT Margin Vs. Peers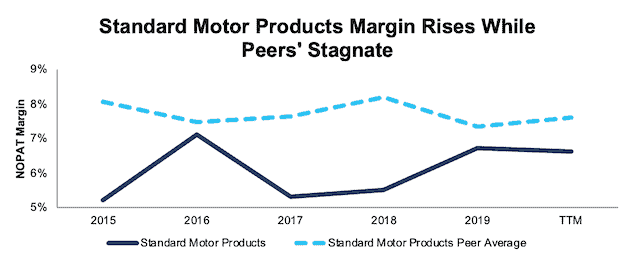 Sources: New Constructs, LLC and company filings.
Standard Motor Products's invested capital turns, a measure of balance sheet efficiency, have fallen from 1.7 in 2015 to 1.4 TTM. However, the peer group's market-cap-weighted average invested capital turns have fallen even further, from 1.9 to 1.4 over the same time and now sit below Standard Motor Products's invested capital turns.
Figure 3: Invested Capital Turns Vs. Peers

Sources: New Constructs, LLC and company filings.
Rising margins offset the falling invested capital turns and help drive Standard Motor Products's return on invested capital (ROIC) higher. Per Figure 4, Standard Motor Products's ROIC has improved from 8.6% in 2015 to 9.4% TTM while the market-cap weighted average of peers has fallen from 14.6% to 10.2% over the same time.
Figure 4: ROIC vs. Peers

Sources: New Constructs, LLC and company filings.
Standard Motor Products's financial stability and profitability position the firm not just to survive the downturn, but also to expand its market share during a recovery. As the firm's CEO, Eric Sills, pointed out during the 1Q20 earnings call, "the auto care industry is extremely resilient and tends to outperform in economic downturns. The market we serve has not changed. It has merely been idled. Cars are still out there and are essential to how our country operates."
Unless you believe that there will be no need for aftermarket auto repair parts in a post-COVID-19 world, it's hard to argue against Standard Motor Products's ability to survive. And, if it survives, it's hard to argue that the firm's improving profitability (faster than peers) before the crisis, will not translate into market share and profit growth after the crisis.
Demand for Standard Motor Products's Is Expected to Be Strong
There's no denying the COVID-19 pandemic will have an adverse impact on Standard Motor Products's business in the short-term, as auto repair shops are closed across the country and consumers are driving less. However, unlike new cars, which are expected to see a significant drop in sales, Standard Motor Products's could see a long-term benefit from the economic crisis, as consumers keep their cars longer.
Disclosure: David Trainer, Kyle Guske II, and Matt Shuler receive no compensation to write about any specific stock, style, or theme.