GameStop Unveils New Share Offering, Announces New CEO/CFO, Sales Below Street High Est.
GameStop shares rallied as much as 9.3% intraday before giving it all back just before earnings. They spiked briefly on the CFO/CEO announcement, but that quickly evaporated on the actual data.
(Click on image to enlarge)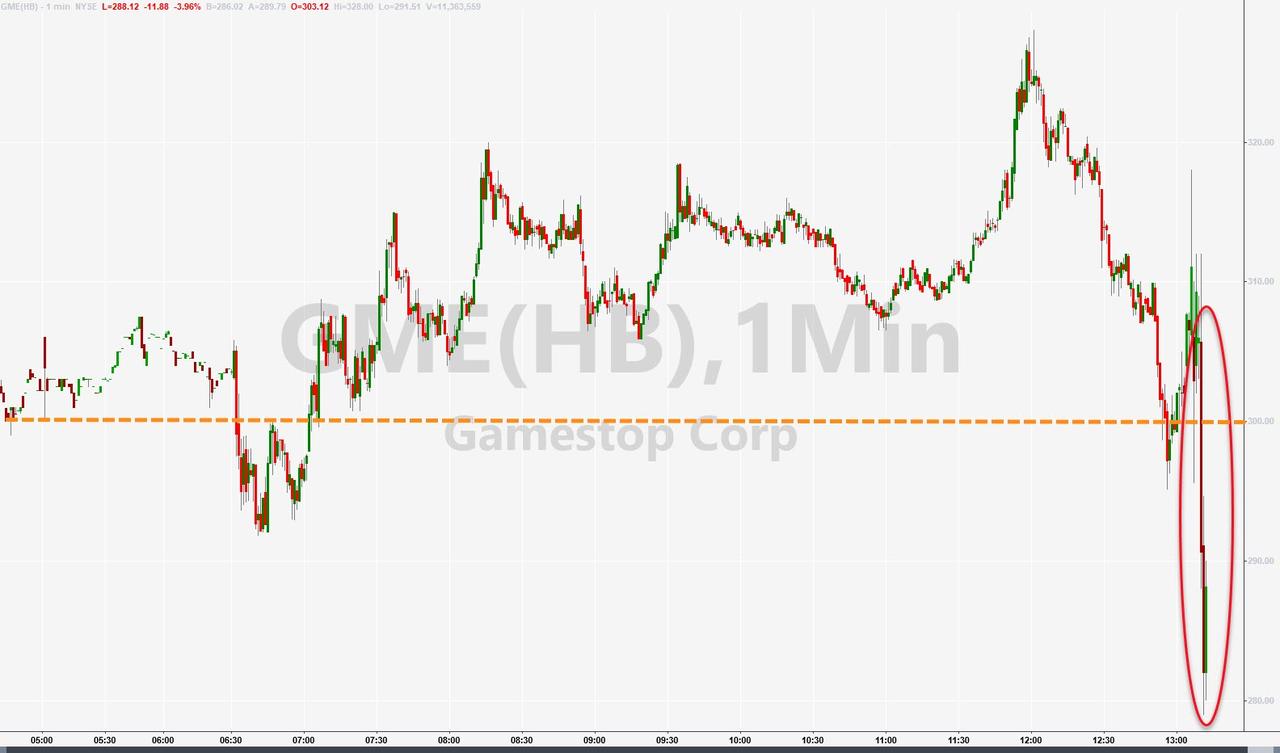 The hope-filled outlook is as follows:
GameStop is continuing to suspend guidance at this time; however, it believes total net sales is the most appropriate metric to evaluate performance at this time. The Company's second quarter sales trends continue to reflect momentum, with May total sales increasing approximately 27% compared to last year.
And finally, GME notes that as of May 1, 2021, the Company had $770.8 million in cash and restricted cash, compared to $583.9 million in cash and restricted cash in the prior year (that includes the roughly $551.7 million it raised from an at-the-market offering back in late April. Though it did use cash to pay off its long-term debt).
The company's 10Q contains this information:
"On May 26, 2021, we received a request from the Staff of the SEC for the voluntary production of documents and information concerning a SEC investigation into the trading activity in our securities and the securities of other companies. We are in the process of reviewing the request and producing the requested documents and intend to cooperate fully with the SEC Staff regarding this matter. This inquiry is not expected to adversely impact us."
The company also confirmed that it plans to file with regulators to sell up to 5 million shares through at-the-market offers, which could be what's weighing on the stock... although that is old news.
Disclaimer: Copyright ©2009-2020 ZeroHedge.com/ABC Media, LTD; All Rights Reserved. Zero Hedge is intended for Mature Audiences. Familiarize yourself with our legal and use policies every ...
more