GameStop Stock Price Consolidates Ahead Of The Quarterly Earnings
GameStop stock (GME) price is back in focus as the company is set to announce its quarterly earnings next week. Investors expect the loss-making company to report Earnings Per Share (EPS) higher by 52.5% compared to the same period last year.
GameStop stock price made headlines this year. The company's shares squeezed higher at the start of the year, triggering stops and losses for hedge funds caught on the short side of the market.
Image Source: Unsplash
When selling short, hedge funds and other investors bet on the decline of the company's share price. They believe that the business model or the way the company is managed is not reflecting the intrinsic value of the company, and hence the price should be much lower.
The problem with short selling is that the winning is limited while the loss is unbounded. Hence, short selling is much riskier than trading stock on the long side (i.e., buying).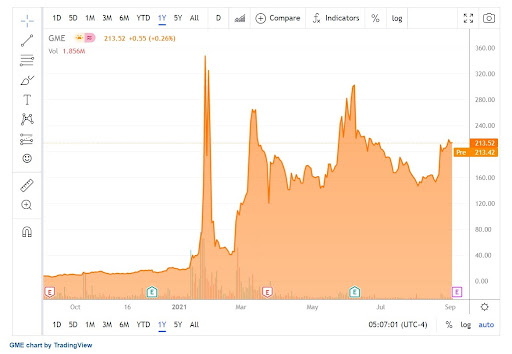 Loss-making companies are often shorted. After all, if a business loses money, it must have positive cash flows in the future for investors to believe the stock is still worth something today.
In the case of GameStop stock price, it hovers above $200, although the company is losing money. Expectations for next week's EPS are -$0.67, higher than in the same period of last year. Nevertheless, the company keeps losing money.
What Do Analysts Say About GameStop Stock Price?
Analysts are mostly bearish, with price targets well below the current market price. For example, Wedbush Morgan Securities has maintained its sell rating, with a target of $50 for the GameStop stock price.
Others have even more aggressive targets. Yet, GameStop trades above $200, and volatility is poised to increase as we head into the quarterly earnings.
Disclaimer: None of the content in this article should be viewed as investment advice or a recommendation to buy or sell. Past performance/statistics may not necessarily reflect future ...
more