Gamestop Hit A Hit Of 384.36
The Barchart Chart of the Day is Gamestop (NYSE: GME). I am not recommending buying at this level but want to answer a question I am asked over and over again: Why didn't I see this stock earlier?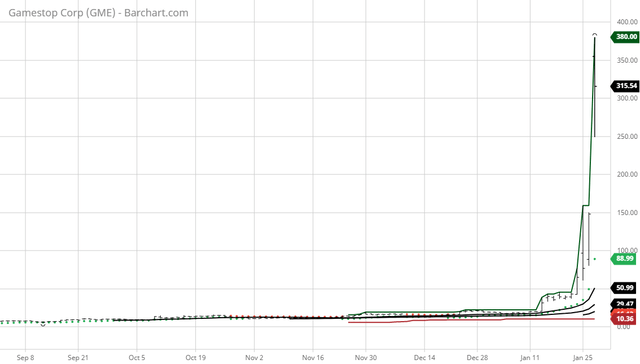 Today, as I write this article Gamestop (GME), hit a hit of 384.36. Let's look at all 13 of Barchart's last BUY signals and where you could have bought in:
Barchart Opinions with the date of last buy signal and price:
Trend Spotter 12/22 @19.46
20 DMA 12/17@14.83
20-50 MACD 8/21@5.03
20-100 MACD 8/26@5.11
20-200 MACD 8/28@5.39
50 DMA 12/5@13.85
50-100 MACD 9/9@7.35
50-150 MACD 8/11@4.35
50-200 MACD 9/8@7.70
100 DMA 8/12@4.52
150 DMA 8/12@4.52
200 DMA 8/21@5.03
100-200 MACD 9/4@7.65
I think Barchart gave you all the BUY signals you ever needed.
The first BUY signal the 50-150 MACD came at 8/11@4.35 for a 6,991.15% return.
The last Buy signal the Trend Spotter came at 12/22@19.46 for a 1,485.13% return.
In my personal screens, I was alerted on 9/9 @7.55 for a 3,939.26% return.
Disclosure: The Barchart Chart of the Day highlights stocks that are experiencing exceptional current price appreciation. They are not intended to be buy recommendations as these stock are ...
more