Four Bullish Stocks To Buy In April (And How To Trade Them)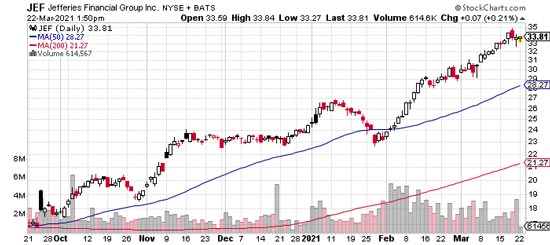 The stock is trading above every significant trend line you can think of right now. It had a minor pullback to support back in early March and is clearly getting ready to power even higher – at least another six weeks of bullish activity.
The Money Calendar hit on JPMorgan Chase & Co. (NYSE: JPM), too, suggesting folks should snap up shares of the country's biggest bank this week.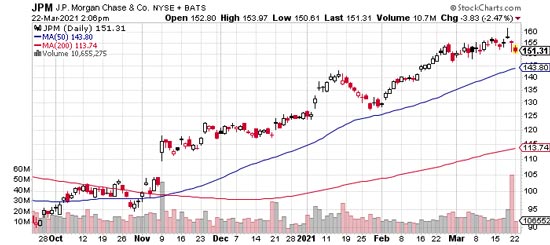 The chart tells a similar story to Jeffries of a strong stock, comfortably above the big trend lines, but with an important difference: JPM shares are in a pullback now, which makes this a really attractive buying opportunity. I'm not seeing many more "red" bearish days on the Money Calendar for these shares.
Builders FirstSource Inc. (Nasdaq: BLDR) makes the list today… and it makes good sense as a play on the housing boom; we're currently smack in the middle of the biggest boom in 16 years. It's not just housing, either; we're currently seeing record high levels of economic activity related to remodeling, too. Try going to a Home Depot or Lowe's store on any weekend, and you'll see what I mean. Builders FirstSource manufactures and sells building materials of all kinds for residential and commercial products, including pre-fabricated components.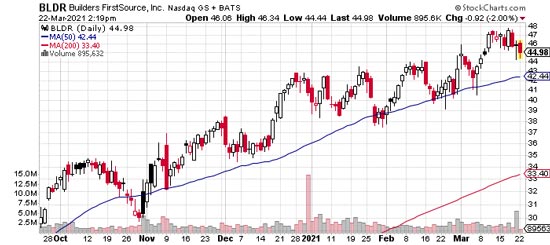 Even if we weren't in the middle of a housing and remodeling boom, the first 90 days of any new presidential administration are usually like rocket fuel for stocks like this, as folks look to spend political capital on – you guessed it – infrastructure. The Democrats currently in control in Washington, D.C., have an infrastructure wishlist worth hundreds of billions – new airports, roads, "green" building, rail transport, you name it. You could probably throw darts at a list of building stocks right now and come up with a winner, but the Money Calendar expects standout performance from BLDR stock throughout April.
Disclaimer: © 2021 MoneyShow.com, LLC. All Rights Reserved.