Forecast 2021: The Stock Market
The simple fact is that this period has scarred a generation, and like the Great Depression generation, they will be more financially conservative. At the very least for a while.
Nonetheless, at some point even zero real rates don't justify holding stocks unless they produce sufficient earnings. I don't know where that point is (none of us know the future). But we do know where earnings are. Here's a chart from Ed Easterling of Crestmont Research.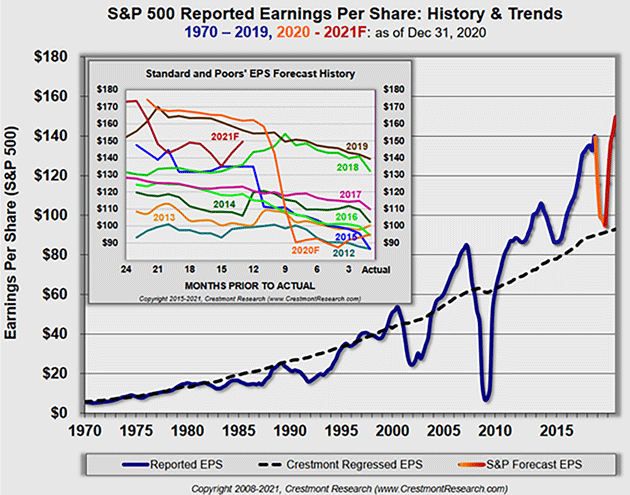 Source: Crestmont Research
Look at the inset chart first. It shows the progression of earnings estimates beginning two years ahead of a year-end. You see they mostly started optimistic and gradually came down (though 2012 and 2018 weren't far off).
But look at the orange line labeled "2020F." It was gently declining like other years, then plunged when COVID-19 hit as analysts sliced estimates. Yet stock prices went the opposite direction, for the aforementioned monetary reasons. Now look at 2021F. Projected 2021 earnings are almost back where 2020 was, pre-pandemic. That means analysts project US public companies will, less than 12 months from now, have fully recovered from this plague. Possible? Yes, but I think highly unlikely.
But if you believe both a) earnings will recover this year and b) the Fed will keep stimulating, or at least not withdraw what it injected, then today's stock prices possibly make sense. That's an ideal, once-in-a-lifetime scenario. Again, I think it's very unlikely, but it isn't impossible.
Decision Time
So what is an investor to do? As always, it depends on your personal circumstances. A 30-year-old with steady income and little or no debt might ride the wave for a while longer. But I think anyone in or near retirement should think very hard about how aggressive they want to be. I know it's a tough spot. You certainly won't make much in bonds or bank savings.
So, let me make an actual market call. With some significant qualifications. First, anybody over 50 with substantial amounts of money in passive index investing should probably step to the side. Especially if that is your retirement money. Take profits. Go to cash.
I see too many parallels between market valuations and exposure between the year 2000 and today. Note that both in 1999/2000 and in 2006–07, I called the bear markets early. Maybe I'm early again. But I will note that my good friend Doug Kass of Seabreeze Partners issued a bear market warning this week: "My message is simple. Sell Stocks Now." And he is a much better market timer than I am.
Jeremy Grantham points out, in the report quoted above, how investment professionals have to think not only of market risk, but career and business risk, too. They have strong incentives to stay bullish at all times. If your investment advisor has you in a traditional 60/40 portfolio using passive indexes, then you should consider other options.
Now, let me note the exceptions. If you are young and have time, as in more than 20–30 years, and can deal with the drawdown or small returns for 10 years, then be my guest.
Let's look at this chart from my friend and business partner Kevin Malone at Greenrock Research. Note that the decade of the "aughts" had a negative (almost -1%) return. (As predicted here at the beginning of that decade, based on historical market returns from extraordinarily high valuations.)
Today's valuations resemble those of the year 2000. Why should we expect different results? The 2010's were an extraordinary bull market. You were more or less rewarded for staying in the market for 20 years, though with the smallest average annual return since 1960.

Source: Kevin Malone
Kevin then shows what a dividend-focused strategy would have returned over the same periods. This uses Jeremy Siegel's data, taking the 100 highest-paying dividend stocks in the S&P 500 and rebalancing every year.

Source: Kevin Malone
I can show you any number of dividend strategies, both US and foreign, that have significantly outperformed with below-market volatility.
So, if your advisor has you in a historically proven active strategy, there is no reason to move to the sidelines. Let me go further: There are other active stock market strategies that I would expect to do quite well, just as they did in the first decade.