Forecast 2021: The Stock Market
"Accommodative monetary conditions and zero real rates extrapolated indefinitely" is a phrase I wish I had coined. It's the best, most succinct explanation I've seen for this euphoria. And, as Grantham says, it's not going to end well. But the party could continue if current monetary conditions and low rates persist.
That being said, let's look at not only the Buffett indicator (all-time highs) he mentioned but also a few more charts: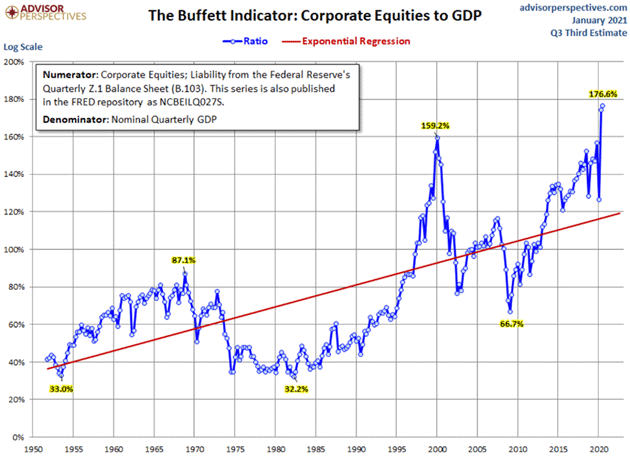 Source: Advisor Perspectives
Numerous other indicators are at or close to their historical peaks. Here's a handy list, courtesy of Doug Kass.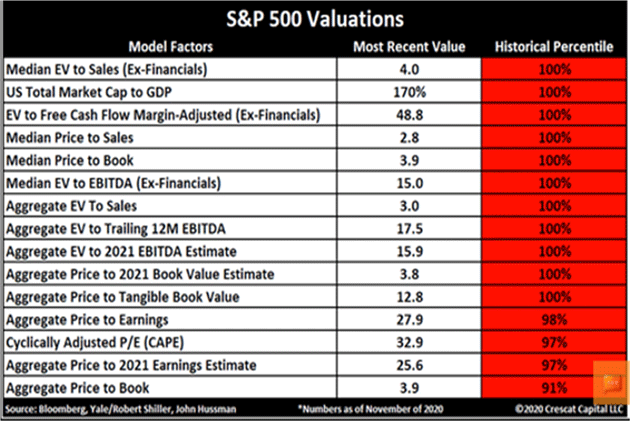 Source: Doug Kass
When we say that price-to-sales is at 100% of its historical percentile, that is a little misleading. It is much higher than that in actuality:

Source: MarketWatch
I could easily show you a dozen more charts, all basically saying the same thing: Valuations are at nosebleed levels. You've seen them elsewhere, so no need to reproduce them here.
What Were You Thinking?
The brilliant Jesse Felder illustrates the price/sales problem this way, using Tesla.
"What were you thinking?" That is the rhetorical question Scott McNealy, CEO of Sun Microsystems, asked of investors paying a "ridiculous" ten times revenues for his stock at the height of the Dotcom Mania. The incredulity in his voice is amplified by the benefit of hindsight as McNealy gave the interview this quote was taken from in the wake of the Dotcom Bust, after his stock price had lost over 90% of its value.
Indeed, what were investors thinking 20 years ago, not only paying 10 times revenues for Sun Microsystems but also paying that ridiculous multiple for 44 other stocks in the S&P 500 Index? It's impossible to know for sure, but it's a good bet they were simply counting on the "greater fool theory" or the idea that someone will come along and pay an even more ridiculous price than they did. At some point, however, the market ran out of fools and the Nasdaq fell 83%.
It's interesting to note that we seem to have found even more fools today than we did back then. Nearly 60 of the S&P 500 Index components currently trade more than 10 times revenues. There's no telling when the current market will run out of fools this time but, when it's all said and done, that last buyer may justly earn the title "greatest fool" of all time. And only with the benefit of hindsight will it really feel like the abject folly it should.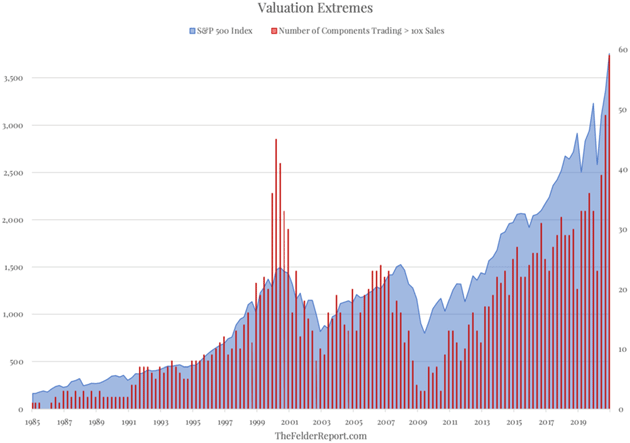 Source: Jesse Felder
On Twitter, Jesse asked rhetorically what the McNealy of 20 years ago would think about Tesla trading at 30 times revenues. McNealy replied, "I want to be Elon Musk."
Last year the S&P was up 18.4%, the Nasdaq 44%, and an equally weighted portfolio of FAAAM (Facebook (FB), Alphabet (GOOGL), Amazon (AMZN), Apple (AAPL), Microsoft (MSFT)) plus Netflix (NFLX) was up 55%. The contribution of that latter group to the S&P 500's growth was 14.35%. The "S&P 494" gained only 4.05%.
What are the chances the FAAAM+N stocks rise another 55% this year? Especially given the uncertainty and a high probability that earnings estimates will come down significantly? Yes, the Fed will be extraordinarily accommodative, interest rates will remain low, and markets will still try to "extrapolate indefinitely." The people at Goldman Sachs have a much more optimistic scenario (15%+ this year):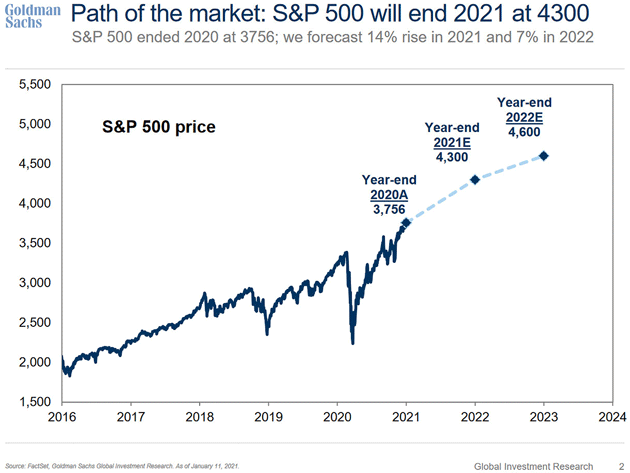 Source: Goldman Sachs
I will say that such optimism reminds me of the diner scene in "When Harry Met Sally." Wall Street wishes it could have whatever they are having. Ah, but what about earnings, you say? Think of the pent-up demand that will be unleashed on businesses when all this is over. Here are my two responses:
First, "when all this is over" is a fact not yet in evidence. The virus still has us firmly in its grip which is, if anything, tightening. Maybe it will loosen this year, maybe not.
Second, "pent-up demand" assumes people, once liberated from virus fear, will move the money they didn't spend during this time into the same things they would have spent it on. That's a giant assumption. The revenue lost by service businesses is permanently gone. And the propensity to save, if you believe multiple surveys, is increasing.