Ford's Lending Arm Does The Dirty Work For Parent Company, Generating More Profit Now Than Ever
At a time when the global automotive market is mired in deep recession - and things likely aren't going to be getting any better, with China in the midst of an epidemic - Ford's lending arm is acting as the profit backbone for the company, generating more profit now than it ever has for the company.
Amid an epic loss and the resignation of the company's president, Ford credit now generates a remarkable half of the automaker's profit, according to Bloomberg, which is up from 15% to 20% in the past. The company's credit arm makes loans to dealers stocking vehicles and then the consumers who buy them. Ford is relying on its financing unit to help it fund "multi-billion outlays on electric and self-driving cars" now.
The parent corporation, however, is dealing with $11 billion in charges from a restructuring that "could take years".
Lawrence Orlowski, an analyst at S&P Global Ratings said of Ford's credit arm: "It's like the ballast that keeps the ship steady. It's a balancing act."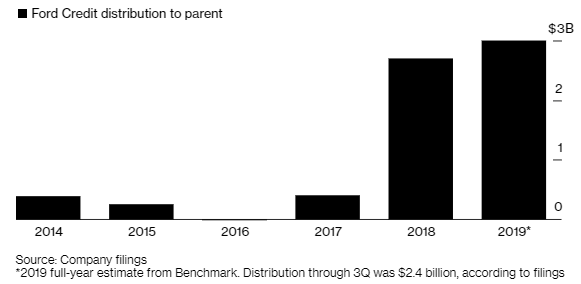 The amount of vehicles that Ford has been selling has been on the decline for the last three years and the company is losing money in China.
But the company would be "far worse off" without its Ford Motor Credit unit, which is paying for the company's capex by borrowing in the debt markets and paying a dividend back to the parent company. Expectations are for the credit arm to contribute nearly $3 billion annually to Ford over the next 2 years. In 2017, that contribution was just $400 million.
The company's credit arm borrowed about $10 billion in the U.S. investment-grade bond market over the last 12 months. Meanwhile, it has been over 3 years since Ford itself has issued bonds. Moody's downgraded Ford to junk in September and S&P cut its rating on the company to its lowest investment-grade rating in October. Another downgrade from S&P could remove Ford out of some major indices, which has weighed on the minds of investors for the better part of the last year.
Disclosure: Copyright ©2009-2020 ZeroHedge.com/ABC Media, LTD; All Rights Reserved. Zero Hedge is intended for Mature Audiences. Familiarize yourself with our legal and use policies every ...
more